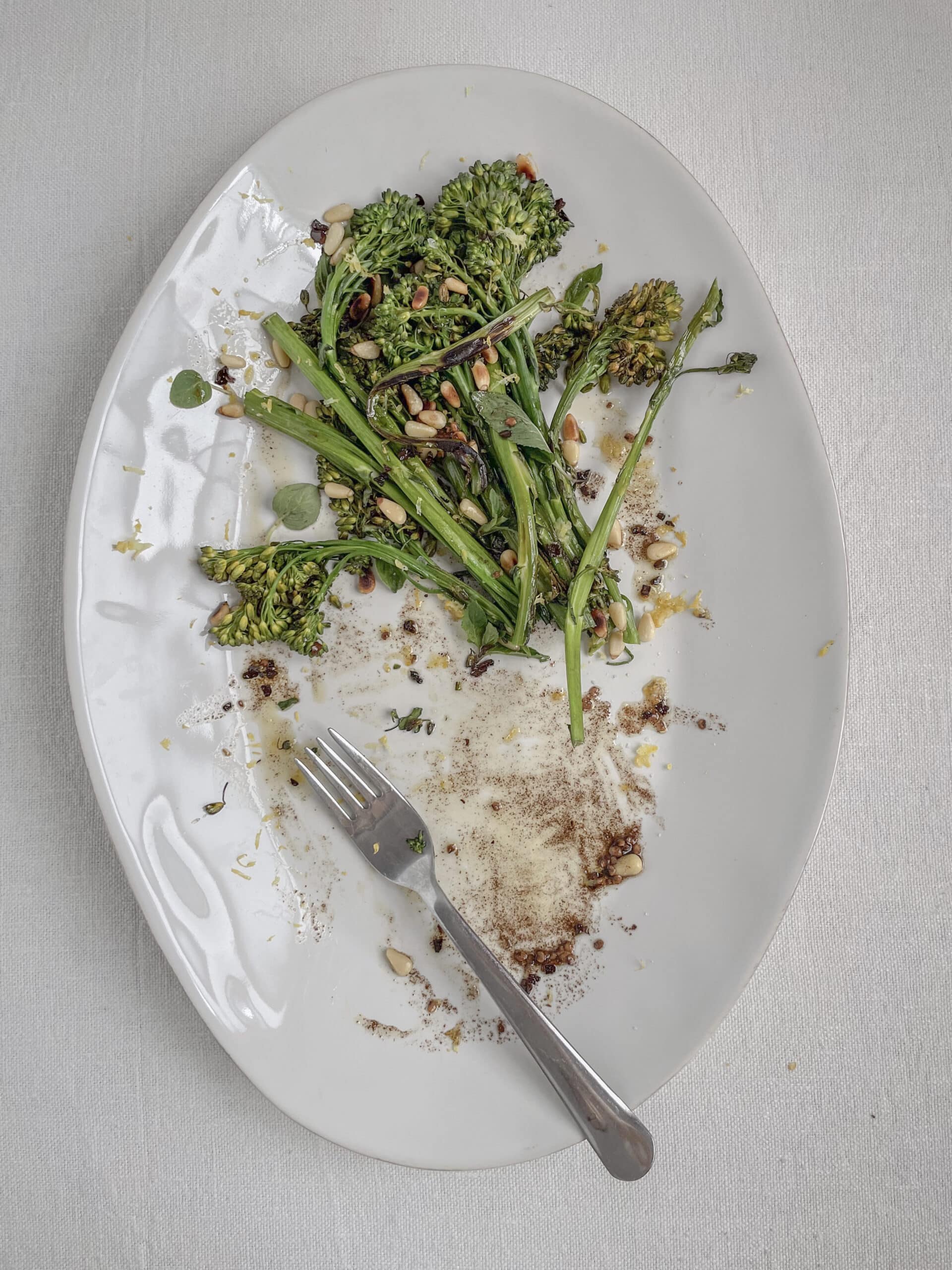 Charred Broccolini with Chili Oil
This recipe came about because I wanted to attempt to make chili oil. Not broccolini.
I've heard about making flavored oils for quite some time now yet I was too intimidated (and overwhelmed on my healing journey) to even begin to tackle them.
But, you know, I'm feeling better and better and better each day so I'm stepping outside of my kitchen comfort zone more than I ever have.
I don't often find myself cooking broccolini's mother, the big crown of broccoli. I don't know why but I very rarely find myself saying, "Wow, I wish I had a head of broccoli in my fridge to cook." Or "I'm craving broccoli right now." It just doesn't happen.
But, broccolini. Well that's a different story for me.
Broccolini is more fun to cook and it's not just one boring bushy green tree. Instead, here, there are long, tender stems hanging out with a little broccoli sprout peeping out at the top. It's more my speed.
Perhaps you can relate.
If you can, you're in luck because today I'm charring these beautiful greens on the stovetop for a superb side dish that marries the heat from chili oil and the brightness of this beautiful green brassica.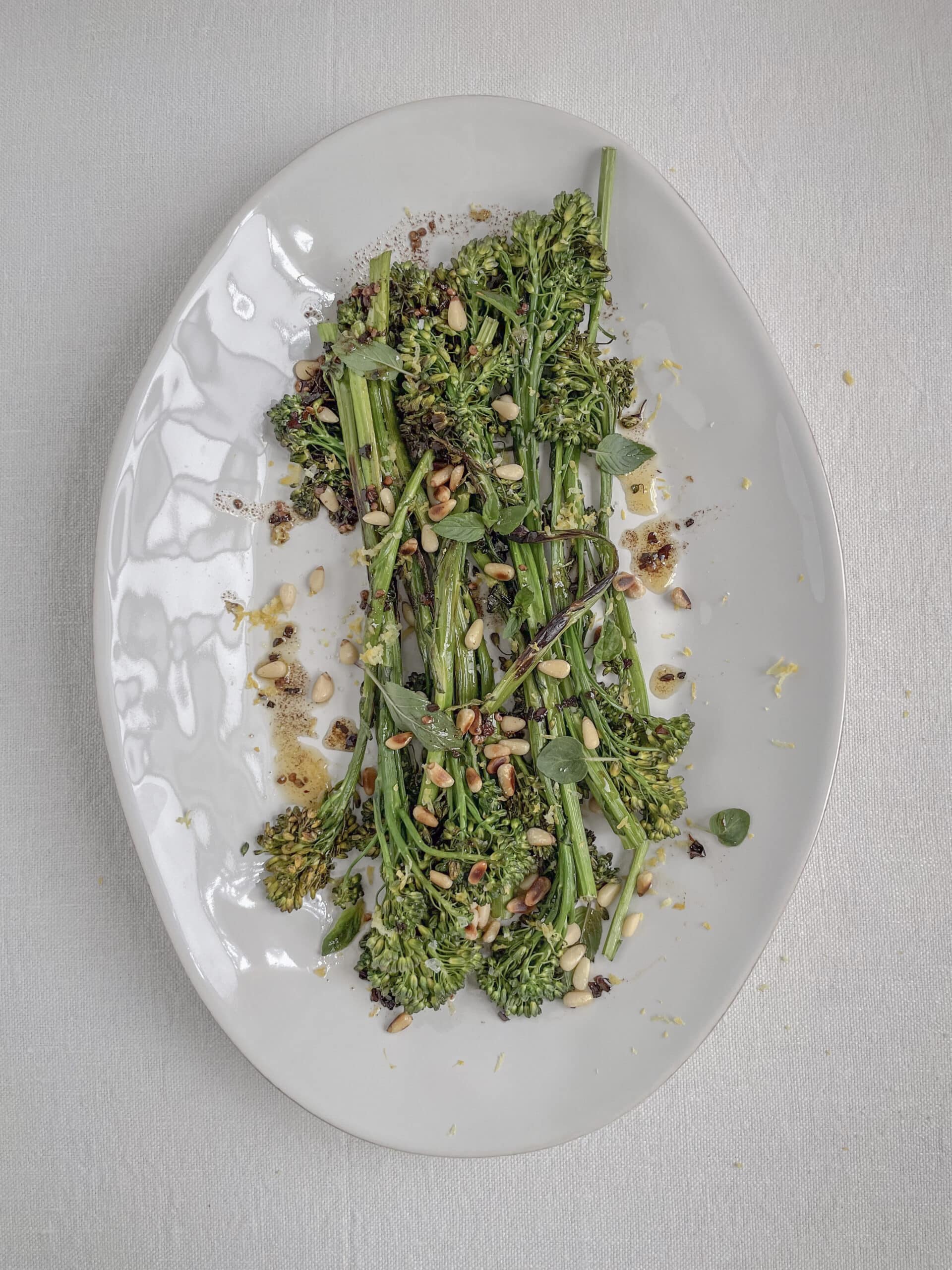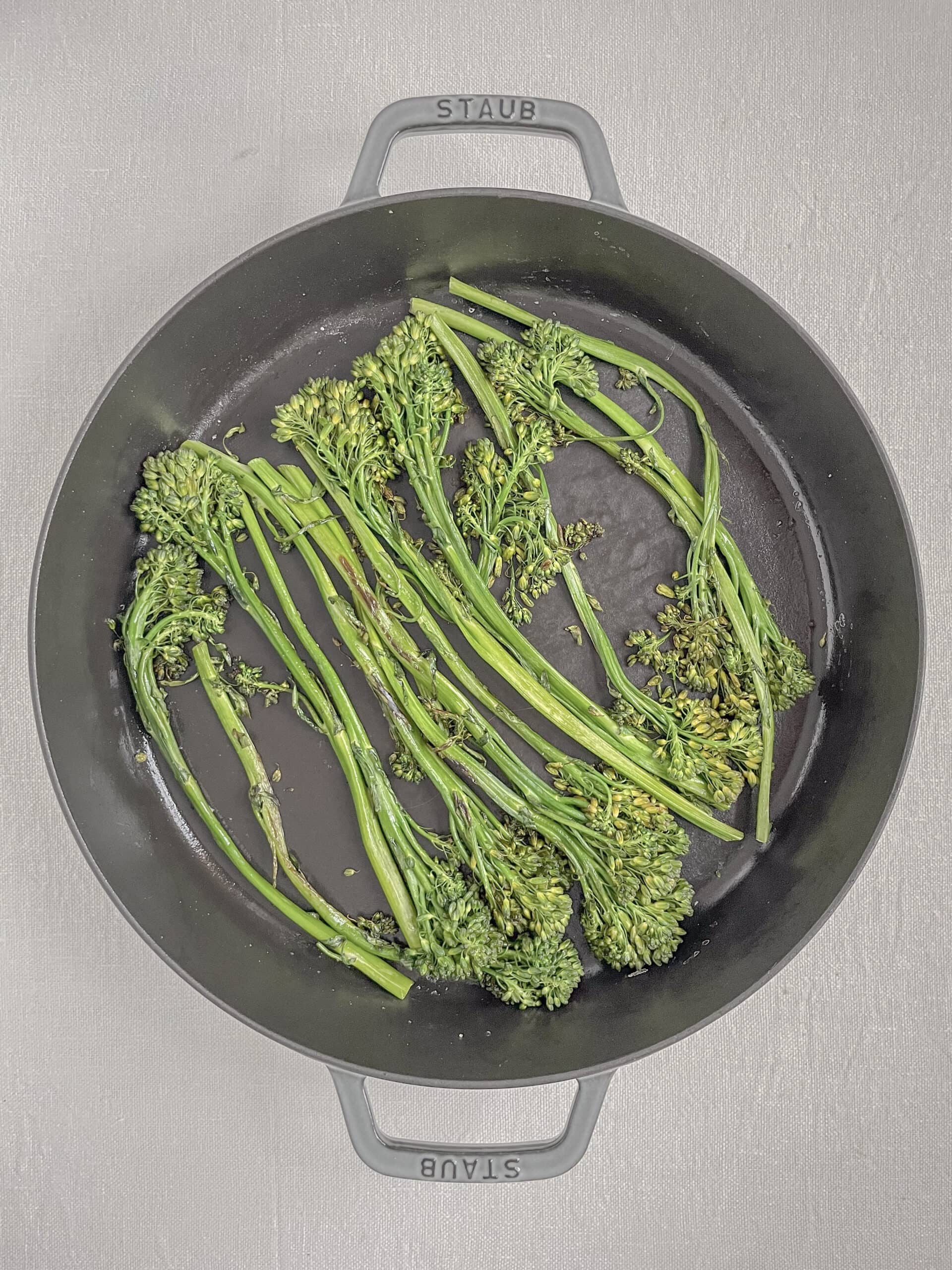 Don't let the word charred overwhelm you. All I'm doing here is letting the broccolini sit in a large skillet over high heat until it's a bit blistered.
We're not trying to blacken the broccolini. That doesn't feel healthy to me. We're just blistering it up a bit. So, maybe you can think of this as blistered vs. charred if that helps you wrap your head around what we're doing here.
Whatever you do, don't skip the chili oil. When served warm, it's instantly comforting and offers a spot of heat to each bite.
Lemon zest, which happens to be my favorite way to brighten anything and everything up a bit, is layered on top of the broccolini and the shimmer of the chili oil just before serving.
And, while this dish may seem like a cold weather recipe, it's actually quite wonderful served in the late summer on the grill.
Enjoy.
Click the Play button below to hear me share a few helpful tips and walk you through the simple steps of making this recipe. Maybe, like me, you've had times when you've struggle to read through a recipe and follow the steps. All kinds of life circumstances–grief, trauma, stress—can tax our cognitive processing abilities, which is why I've created these audio clips to further support you now that I'm in this more healed place.
Charred Broccolini with Chili Oil
Here, I'm serving a charred brassica alongside warm chili oil, which acts as the perfect accompaniment to this simple side dish.
Ingredients
1

head

broccolini

ends trimmed

3

Tablespoons

extra-virgin olive oil

divided

2

teaspoons

crushed red pepper flakes

1/2

teaspoon

sea salt

divided

1/2

teaspoon

ground cumin

lemon zest

fresh mint or marjoram

1

Tablespoon

toasted pine nuts
METHOD
Rinse the broccolini with water and leave wet (do not pat dry). Heat 1 Tablespoon olive oil in a large skillet over medium heat. When the skillet is hot, add the damp broccolini and 1/4 teaspoon sea salt. Cook for about 7 minutes or until tender, flipping the broccolini half way through. Transfer the broccolini to a serving platter.

Heat the remaining 2 Tablespoons olive oil in a small skillet over medium-high heat. Do not allow the oil to smoke. Pour in the chili flakes and the remaining 1/4 teaspoon sea salt. Stir until warm and the oil turns a slight copper color, about 2 minutes. Remove from the heat and pour over the broccolini.

Add the lemon zest, mint and pine nuts. Serve warm.

Store leftovers in a sealed container in the refrigerator for up to 4 days.
Print Recipe
AmieValpone.com participates in various affiliate marketing programs, which means we may get paid commissions on editorially chosen products purchased through our links to retailer sites.