Creamy Leek Soup
I ate my first leek back in my 20's and recall having absolutely no idea what to do with the wavering long flappy forest green strips that looked incredibly unappetizing. It took me awhile to get the hang of it but now, twenty years later I'd say leeks are one of my favorite go-to vegetables. That is, when I have the energy to cook them because cleaning leeks can be a long, arduous process.
They're dirty. I mean, like, really dirty. You can sort of see this in the below right image as I tried to give you a visual for the mahogany sand-like substance that feels like a combination of grainy dirt and teensy pebbles. I know this doesn't sound exciting but once you slice the leeks and rinse them very well in a colander, their silken texture will have you wrapped around their fingers. They're the cousin of the onion yet they're more gentle on the taste buds – not as bold or pungent. They're subtle, which is why they're perfect for a simple soup, which is exactly what we're making today.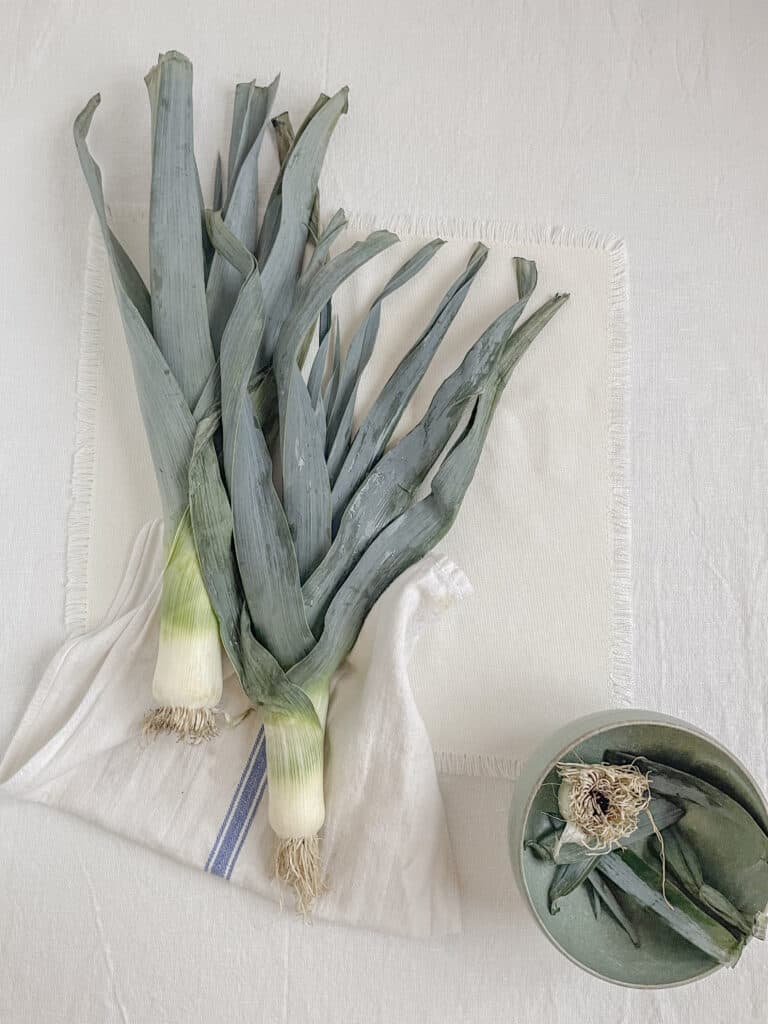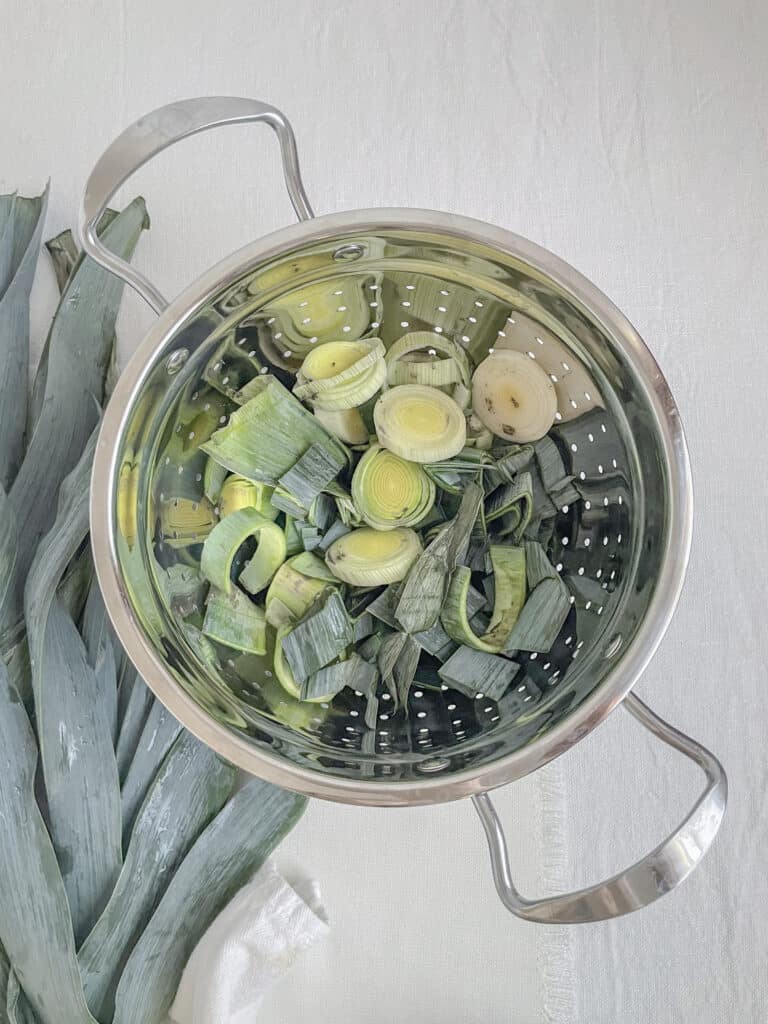 This is the soup to have when you're in the mood for something light yet satisfying on a spring-like day. While it can easily be served as a side dish or appetizer, there's no reason why this soup with the leeks long, tender ribbons gently tied together with tiny bursts of Kelly green peas couldn't be served as a main dish. It's one of those recipes that makes me smile while I'm making it – mostly because the colors are astounding even though they're a bit subdued by the luxurious creaminess of coconut milk by the time I sit down with my spoon to start eating.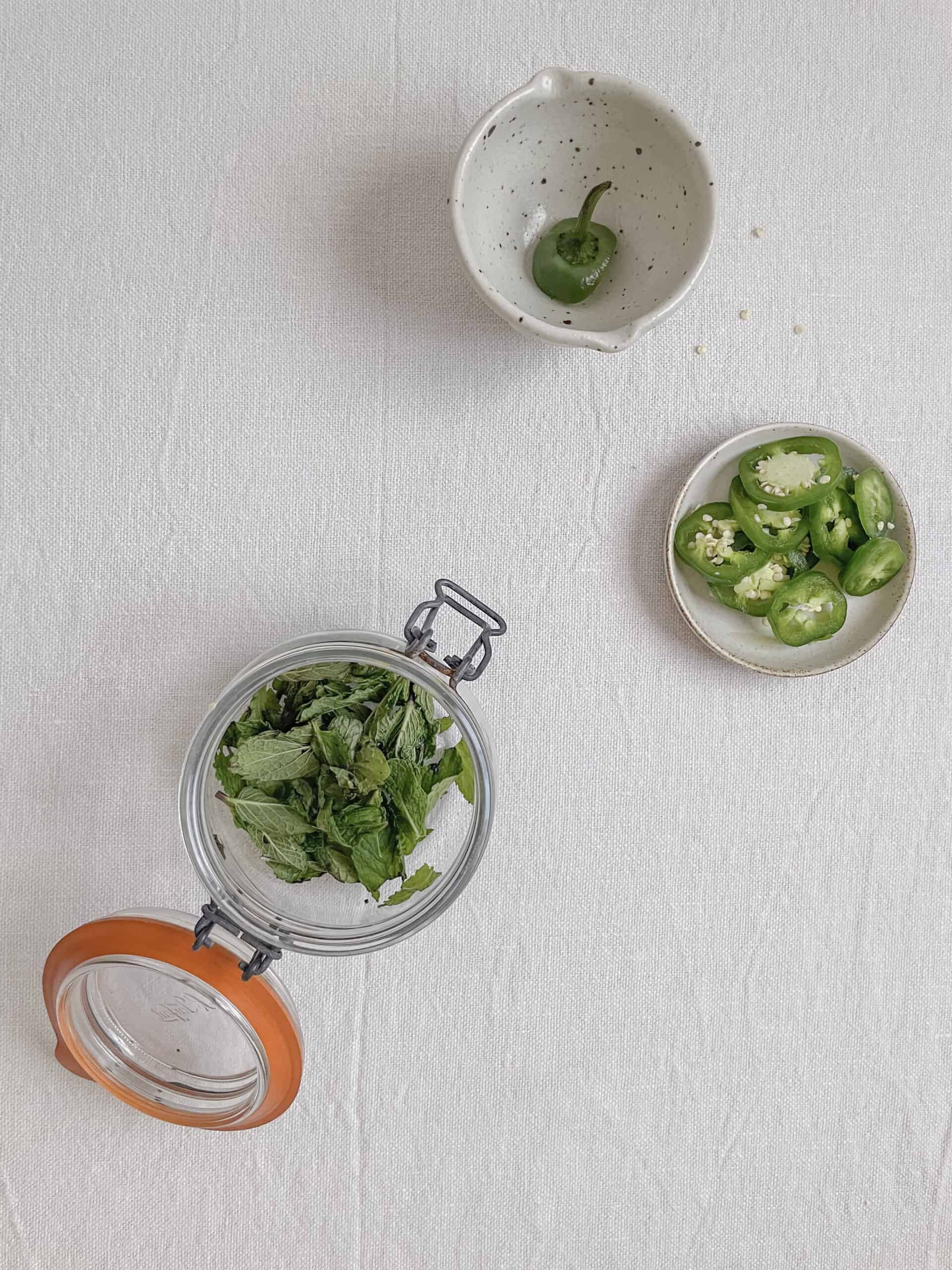 You're welcome to add a bit more oomph to this soup with the addition of quinoa, wild rice or any other gluten-free grain you're in the mood for. A romaine salad with slices of avocado, dressed with olive oil and lemon juice and a mere sprinkling of sea salt would be a refreshing accompaniment to this dish, as well.
However you decide to serve this soup, don't forget the last step, which is to add a few twists of black pepper (or if you're like me, I use Aleppo pepper instead) – you'll likely want a hit of spiciness with each slurp. Enjoy.
You can watch the step-by-step video of me making this recipe on Instagram and all the supplies I've used can be found In My Kitchen.
Click the Play button below to hear me share a few helpful tips and walk you through the simple steps of making this recipe. Maybe, like me, you've had times when you've struggle to read through a recipe and follow the steps. All kinds of life circumstances–grief, trauma, stress—can tax our cognitive processing abilities, which is why I've created these audio clips to further support you now that I'm in this more healed place.
Creamy Leek Soup
This is one of those recipes that feels clean, light and uplifting. It's ideal for springtime, which is when I created it, but you're welcome to serve this year-round. While the soup is served warm, it does seem have a cooling effect when served at room temperature or chilled on a warm spring day – perhaps it's the touch of vibrant green peas from the freezer.
Ingredients
1

Tbsp.

extra-virgin olive oil

1

large

red onion

diced

3/4

tsp.

sea salt

plus more to taste

1/2

tsp.

ground ginger

1/2

tsp.

ground cumin

3

large

leeks

washed well and thinly sliced

1

cup

frozen peas

1

small

jalepeno

thinly sliced

4

cups

water

3/4

cup

full-fat coconut milk

well stirred

fresh mint leaves

for serving

aleppo pepper or freshly ground black pepper

for serving
METHOD
In a large pot, heat the oil over medium heat. Add the onions; season with a pinch of sea salt and cook, stirring occasionally, until the onions are translucent and tender, about 8 minutes.

Add the ginger and cumin and cook until fragrant; about 1 minute. Stir in the leeks, peas and jalapeño; cook for 2 minutes, stirring often. Sprinkle in the sea salt. Pour the water and coconut milk over the vegetables, stir, cover and increase the heat to high to bring the soup to a boil. Then, reduce the heat to low and simmer, stirring occasionally, until the leeks are tender, about 20 minutes. Season to taste as the soup simmers and remove from the heat for serving.

Transfer the soup to serving bowls and serve warm with fresh mint leaves and a few twists of pepper.

Store leftovers in a sealed glass container in the refrigerator for up to 5 days or in the freezer for up to 2 months. Reheat before serving.
Print Recipe
AmieValpone.com participates in various affiliate marketing programs, which means we may get paid commissions on editorially chosen products purchased through our links to retailer sites.