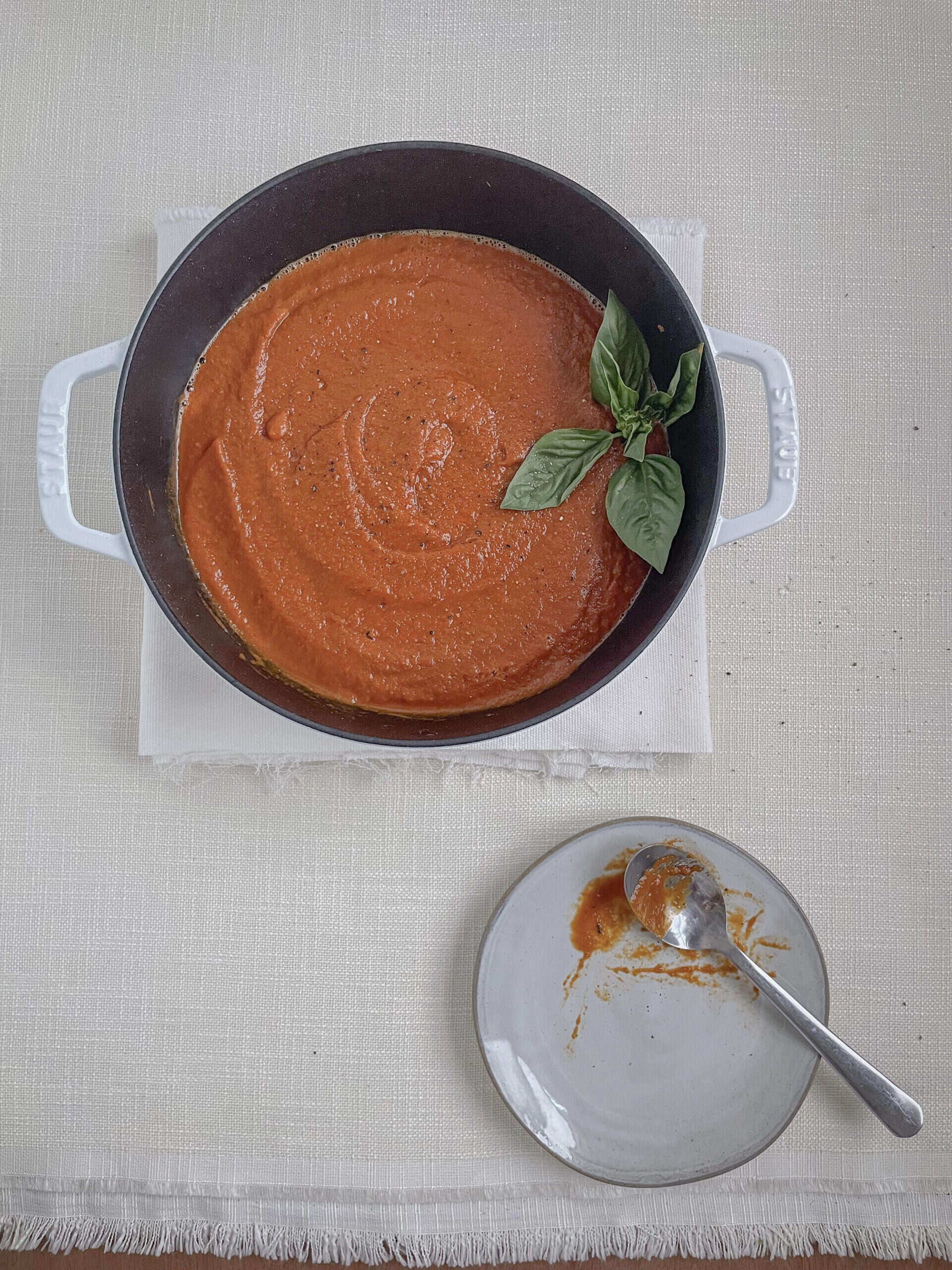 Shaved Carrot Tomato Sauce
I could make tomato sauce everyday and literally spoon it into my mouth as though it was a full meal. I love it. So much.
I think this all started in my childhood. Every Sunday at 8 AM my father would start making his Italian tomato sauce that he'd then serve around 5PM for dinner.
The sauce was my alarm clock. It felt like a real living, breathing thing in the Valpone house on the weekends. I'd wake up from the smell of fresh basil floating up the stairs and under my bedroom door from the kitchen. It felt like something out of Cinderella.
I miss those days. But, I've done my best to re-create this sauce (without added sugar) and with a bit more oomph from shredded carrots. It's really something.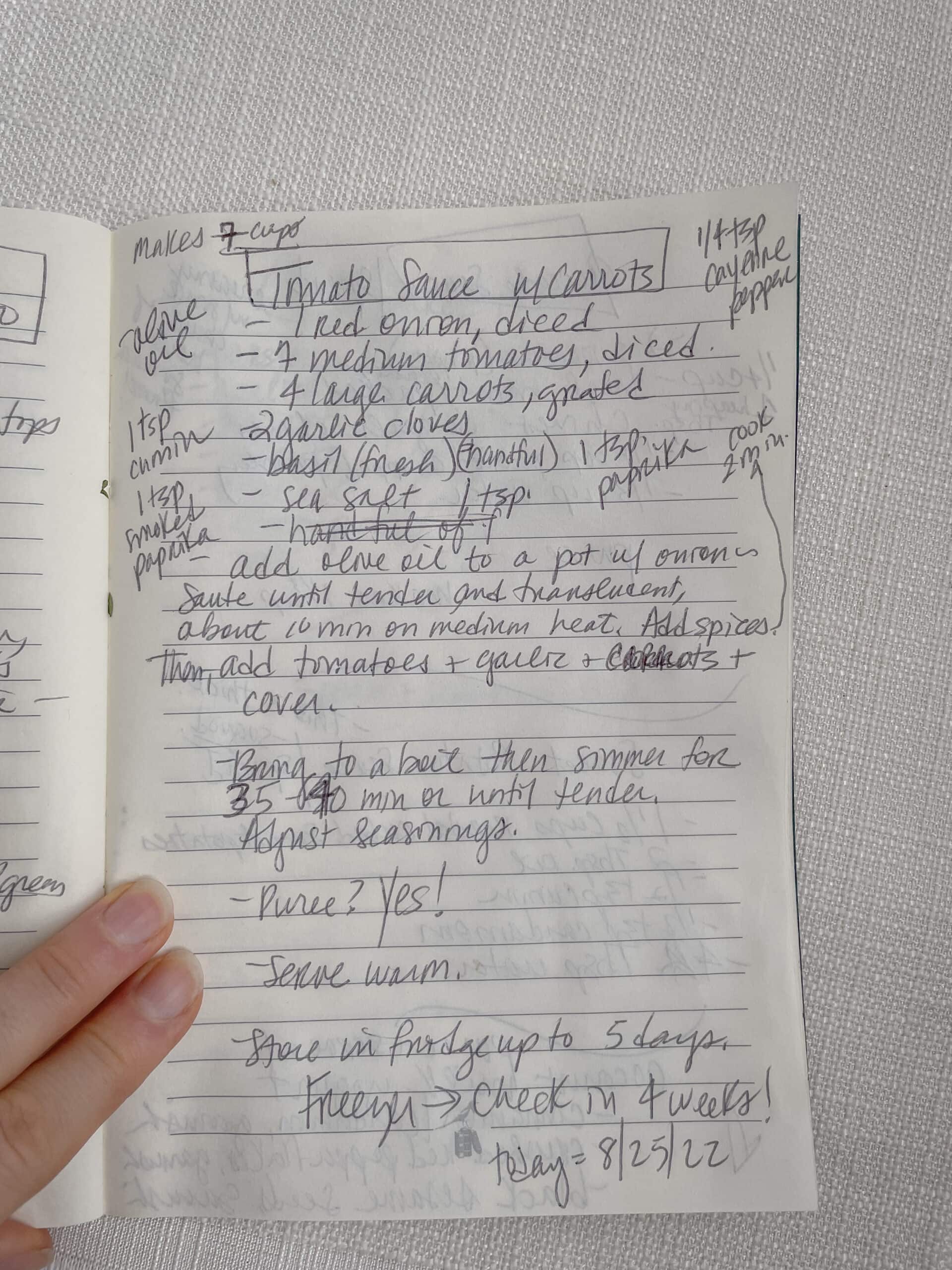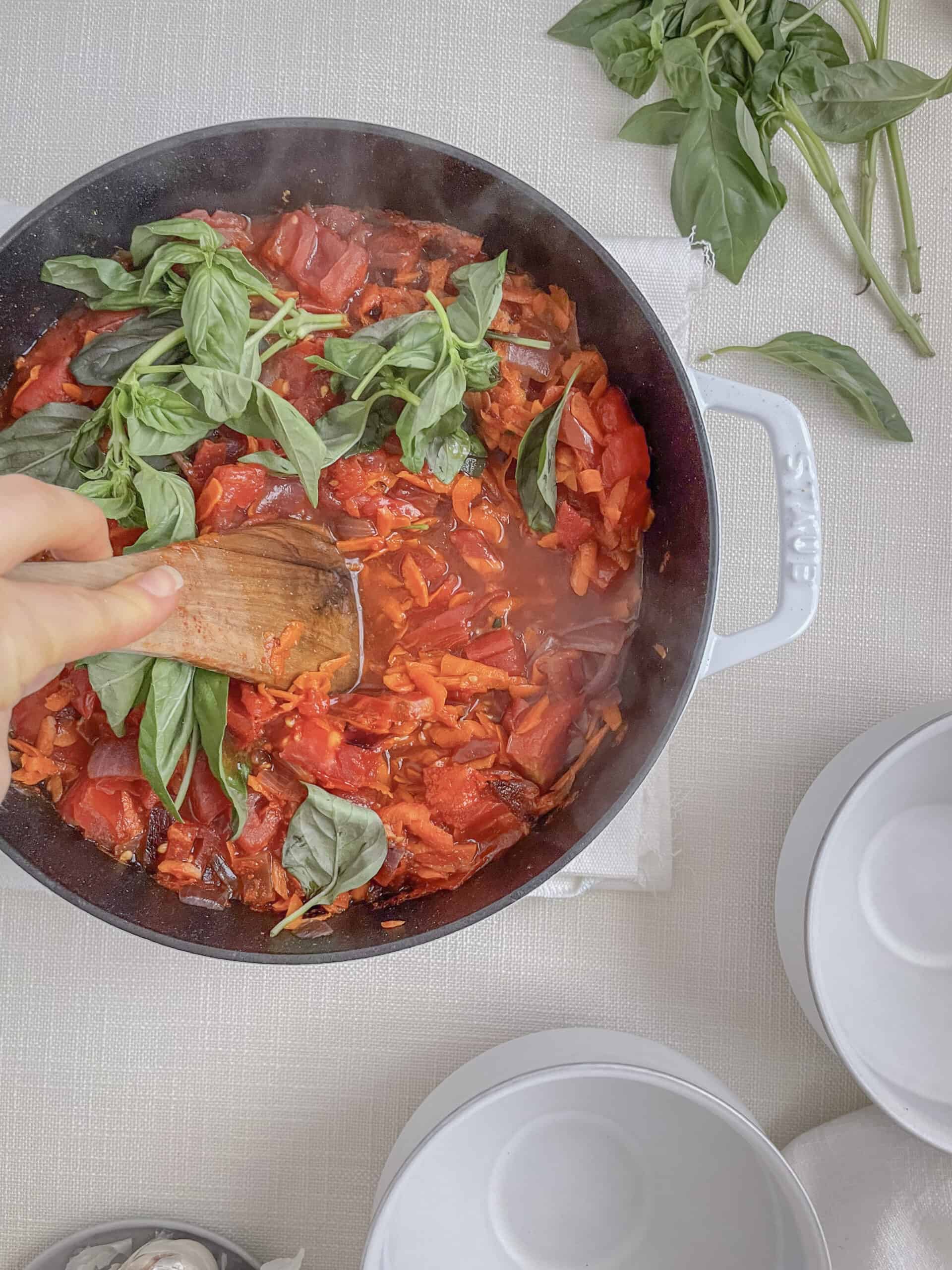 The trick with this sauce is to make sure you're purchasing fresh carrots. Not the ones that look all floppy and shriveled up in the drawer of your fridge. Those won't cut it.
You need the bright tangerine and apricot colored carrots that look moist and vibrant and feel firm, not slimy. These will work.
The sauce is quite simple. I'm shaving a load of carrots and tossing them in a large pot with fresh tomatoes to make a thick, hearty sauce – one that pairs wonderfully well with lasagna and ziti or even tangled with gluten-free spaghetti.
This is nothing like a can of watery tomato sauce. Trust me.
Click the Play button below to hear me share a few helpful tips and walk you through the simple steps of making this recipe. Maybe, like me, you've had times when you've struggle to read through a recipe and follow the steps. All kinds of life circumstances–grief, trauma, stress—can tax our cognitive processing abilities, which is why I've created these audio clips to further support you now that I'm in this more healed place.
Shaved Carrot Tomato Sauce
The soil-encrusted roots of carrots may not seem like they'd lend a boat-load of flavor to a tomato sauce recipe but they surprisingly add a substantial amount of flavor and thicken up this sauce just enough to add atop anything from gluten-free pasta to roasted chicken.
Ingredients
1

Tablespoon

extra-virgin olive oil

1

large

red onion

peeled and diced

2

teaspoons

sea salt

2

teaspoons

smoked paprika

2

teaspoons

ground cumin

1

teaspoon

paprika

1/4

teaspoon

cayenne pepper

10

medium

tomatoes

diced

4

large

carrots

shredded

3

large

garlic cloves

Handful

fresh

basil
METHOD
Heat the olive oil in a large heavy pot over medium heat. Sauté the onion with a pinch of sea salt for 10 minutes or until very tender, stirring often. Lower the heat to medium-low. Stir in the sea salt, smoked paprika, cumin, paprika and cayenne pepper.

Scoop the tomatoes, carrots and garlic into the pot. Bring to a boil then lower to a simmer for 40 minutes, covered, or until the vegetables are very tender. Toss in the fresh basil in the last 5 minutes of simmering. Remove the sauce from the heat. Set aside, if needed, to cool before transferring to the blender.

Transfer to a high-speed blender and puree until smooth. Season to taste. Serve warm.

Store leftovers in a sealed container in the refrigerator for up to 5 days or the freezer for up to 1 month.
Print Recipe
AmieValpone.com participates in various affiliate marketing programs, which means we may get paid commissions on editorially chosen products purchased through our links to retailer sites.