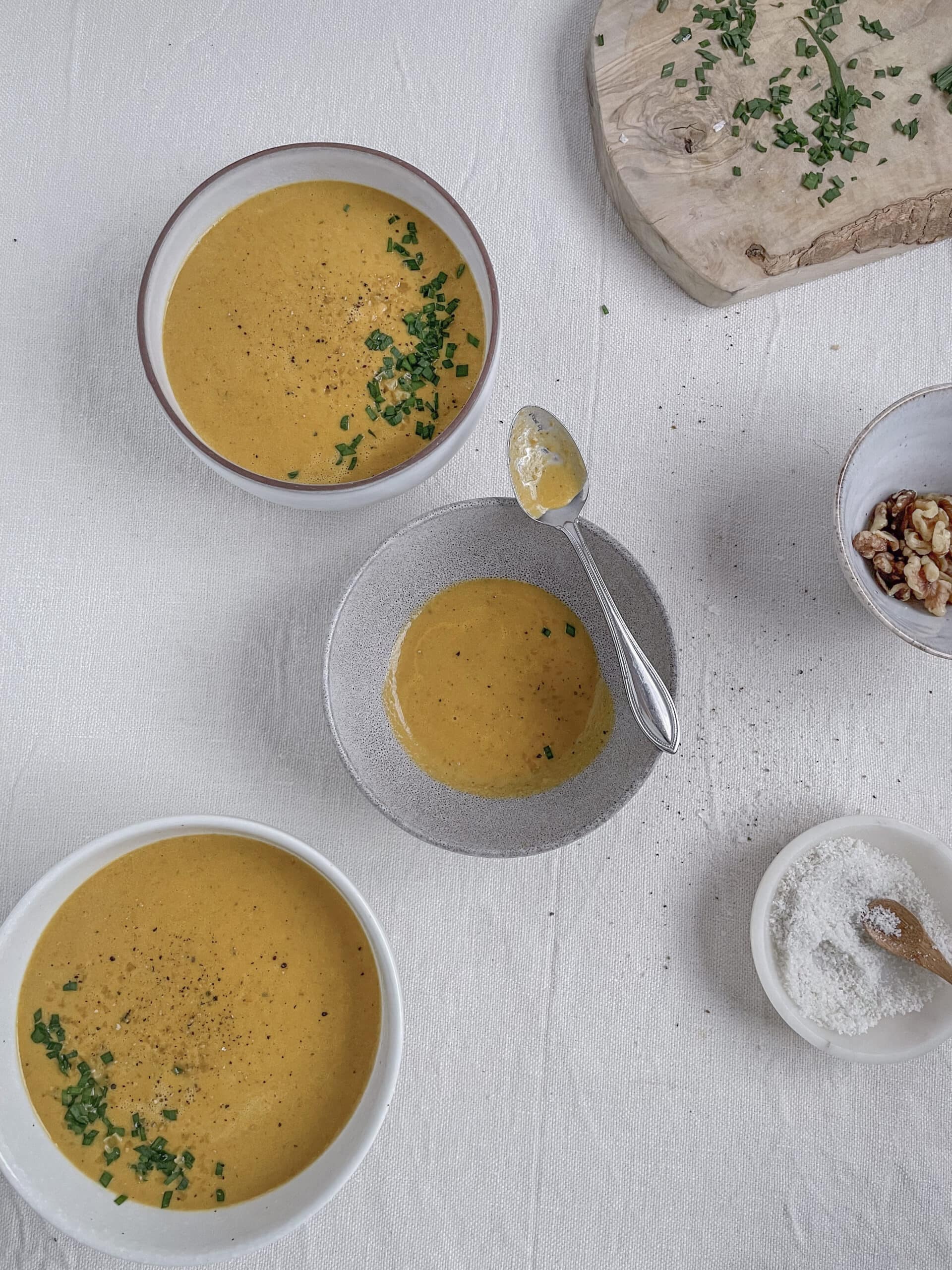 Tomato Basil Bisque
I prefer slurping on bisque over soup. Mostly because I really enjoy thick soups, which in my mind are known as bisque, not soup.
That's why this recipe is a bisque. And not for any other reason.
The first bisque I tasted was when I was in high-school bussing tables for a summer restaurant in my hometown. There was lobster bisque on the menu everyday and man o' man did I love it. I felt awful after tasting it because it was laced with dairy but it piqued my interest in thicker soups.
Thicker soups are simply more satisfying for me. I really can't handle a thin consistency – it just doesn't work. I'm often starving after a few minutes and my brain does not register "Hi, we just ate."
This is why all my soup recipes tend to be filling, thick and hearty. I want to feel full after a bowl of soup, not anxiously peering through my fridge for something to bite into.
The creaminess of this soup comes from a combination of walnuts and water whirled 'round and 'round in a high-speed blender until they merged ever so beautifully and resembled the consistency of milk.
I slightly caramelized a red onion, added a handful of sweet orange tomatoes (these are my favorite and they're low in acid, too) and dropped in a few fresh basil leaves for even more sweetness.
The bisque itself is simple, like all my recipes, and requires little effort on your part – just a few minutes at the stovetop stirring and then blending. Easy peasy.
Just before serving, you're welcome to garnish with chives or flat-leaf parsley. Both work wonders.
Lastly, I like to add a bit more protein for myself, which is why you'll see a handful of walnuts sitting nearby. They're a great addition to drop into the bisque for some crunch.
Enjoy.
p.s. All supplies used in this recipe can be found In My Kitchen.
Click the Play button below to hear me share a few helpful tips and walk you through the simple steps of making this recipe. Maybe, like me, you've had times when you've struggle to read through a recipe and follow the steps. All kinds of life circumstances–grief, trauma, stress—can tax our cognitive processing abilities, which is why I've created these audio clips to further support you now that I'm in this more healed place.
Tomato Basil Bisque
Walnuts and water blended together makeup the creaminess in this bisque, letting the flavor of these fresh apricot-colored tomatoes shine.
Ingredients
1

Tablespoon

extra-virgin olive oil

1

large

red onion

peeled and diced

1

teaspoon

sea salt

divided

10

large

fresh basil leaves

4

large

orange tomatoes

quartered

4

cups

water

1/2

cup

walnuts

freshly ground black pepper

to taste

fresh chives

finely chopped, for serving
METHOD
Heat the olive oil in a large skillet over medium heat. Sauté the onion with a pinch of sea salt for 20 minutes or until slightly caramelized, very tender and translucent, stirring often. Lower the heat to medium-low. Add 1/2 teaspoon sea salt, fresh basil and orange tomatoes. Bring to a boil then cover and simmer for 20 minutes or until the tomatoes are very tender.

Meanwhile, puree the walnuts and water in a high-speed blender until it resembles the consistency of milk. Add the cooked tomato mixture, the remaining 1/2 teaspoon sea salt and black pepper, to taste. Puree until smooth. Season to taste.

Let the soup sit for 5-7 minutes at room temperature to thicken before serving. Portion into serving bowls. Serve warm with fresh chives.

Store leftovers in a sealed container in the refrigerator for up to 5 days.
Print Recipe
AmieValpone.com participates in various affiliate marketing programs, which means we may get paid commissions on editorially chosen products purchased through our links to retailer sites.