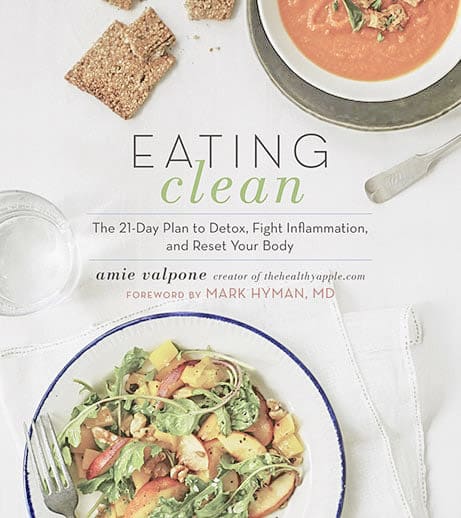 AMIE'S BEST SELLING BOOK
EATING CLEAN
"I'd like to "prescribe" Amie Valpone's Eating Clean… the next best thing to a functional doctor visit. Amie approaches detoxification and optimal health from a genuine place… She developed a road map in this groundbreaking book that can heal your health, your weight, and your life. I'm confident the tools in this book can also help you."
FROM THE FOREWORD BY MARK HYMAN, M.D.
Ten-time #1 New York Times best-selling author
COOKBOOK
EATING CLEAN
Like most Americans, I was raised to revere conventional medicine. But after years of suffering without answers from some of the best hospitals and clinics, I needed a new approach. A decades-long effort to heal myself with alternative medicine revealed my liver's inability to process toxins.
Like many of us, I was never educated on how to reduce my exposure to toxins or why I should care. Through my research, I discovered testing no Western doctor had mentioned. One such test identified in me a gene mutation that makes people more susceptible to toxins, particularly heavy metals and pesticides. These chemicals, which bind to fat receptors, create toxic symptoms in people with this biology. Results from this test and others, which I outlined extensively in Eating Clean, helped me piece together my complicated health puzzle. In this best selling book, I've passed along all I've learned to help you on your journey.
WHAT'S INSIDE
21-DAY DETOX MEAL PLAN
Designed to help you remove toxic triggers, see results, and reverse symptoms
HOW TO DETOX YOUR FOOD + LIFE
By removing toxins in your home, cleaning supplies, beauty products, and personal care products and replacing them with healthier options
200+ PLANT-BASED RECIPES
Free of inflammatory ingredients: gluten, dairy, soy, eggs, corn, peanuts, refined-sugar and animal products, yet full of flavor
AN EXTENSIVE LIST OF FUNCTIONAL + INTEGRATIVE MEDICINE TESTING
With detailed, researched descriptions (not available through conventional doctors) that helped me get to the root causes of symptoms
TESTIMONIALS
PRAISE FOR EATING CLEAN
"Eating Clean is filled with delicious anti-inflammatory recipes and practical solutions to help reset your body and reclaim your health. Amie has the courage to share her authentic journey from chronic illness to vitality. She's an inspiration and her contagious enthusiasm, passion and glowing energy come through every page. This book is a must-have in your anti-inflammatory kitchen."
FRANK LIPMAN, M.D.
New York Times best-selling author of The New Health Rules Plan
"I admire and respect Amie's healthy approach to clean eating and love the recipes and photography in this book! A huge help for people who want to live a healthier lifestyle, but don't know where to start."
GINA HOMOLKA
New York Times best-selling author of The Skinnytaste Cookbook
"Everything is changing when it comes to the health of our families. The escalating rates of food allergies, asthma, autism, diabetes, obesity and cancer are changing how we view food. Eating Clean is a cookbook for a healthy life! With resources, tools and a strong and gentle hand, it is a valuable resource for those on the road to recovery."
ROBYN O'BRIEN
Analyst, mother, author of The Unhealthy Truth
"In Eating Clean, Amie Valpone nails the simple truth that food is at the heart of our wellbeing. As someone, much like Amie, who has struggled with conventional treatment of an auto-immune disease, I can attest to the healing power of food. In this age of overly processed food, excessive prescription medication and so-called quick fixes, it's so wonderful to hear Amie's courageous voice inspiring us to return to a cleaner, more natural way of taking control of our health!"
SEAMUS MULLEN
Award Winning chef, restaurateur, cookbook author and wellness advocate
AmieValpone.com participates in various affiliate marketing programs, which means we may get paid commissions on editorially chosen products purchased through our links to retailer sites.
ORDER YOUR COPY TODAY
BUY NOW