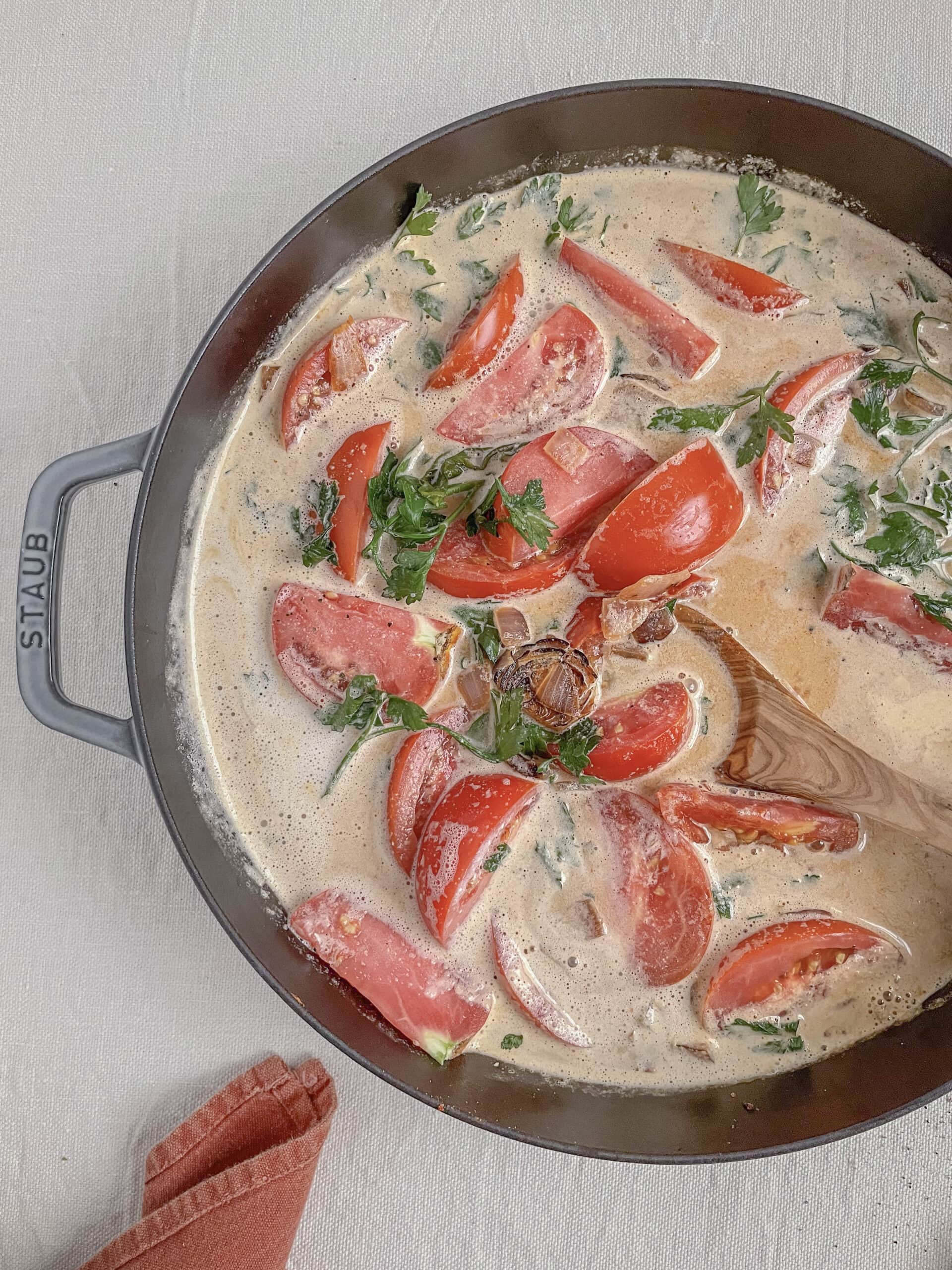 Creamy Pine Nut Tomato Sauce
If you know me by now, you know I love a good tomato sauce.
I tend to make a new tomato sauce each week just for the sheer joy of it all. I find it to be the most relaxing, wonderful way to unwind and my loft smells wonderfully delicious for hours.
This sauce is a bit different than the others you'll find on this website. Mostly because I'm creating a dairy-free creamy base by whirling around pine nuts and water. Yes. It can be done! And it's quite magical. This frothy milk looks a bit like almond milk but I needed to switch things up a bit and forgo the almonds for a minute – they can start to feel redundant after using them week after week in recipes. Plus, I like to keep you on your toes. Trying new things. Going out of your kitchen comfort zone. You know.
The star of the sauce isn't so much the tomatoes. It's actually everything else.I've slightly caramelized a red onion, which is a powerful base to any sauce and creates deep, sweet flavors that don't come from a quick 5 minute saute of an onion. Trust me, take your time and let that onion caramelize.
Beyond the onion, I'm adding a touch of cumin and smoked paprika, which are quickly becoming two of my favorite ways to boost the flavor in any recipe. Then, I'm letting the sauce simmer peacefully with fresh parsley and the pine nut milk until all the flavors meld together.
It's easy. It's straightforward. It will most likely make it's way onto your dinner table for pasta, veggies and even as an accompaniment for dunking gluten-free bread.
Enjoy.
p.s. All supplies used in this recipe can be found In My Kitchen.
Click the Play button below to hear me share a few helpful tips and walk you through the simple steps of making this recipe. Maybe, like me, you've had times when you've struggle to read through a recipe and follow the steps. All kinds of life circumstances–grief, trauma, stress—can tax our cognitive processing abilities, which is why I've created these audio clips to further support you now that I'm in this more healed place.
Creamy Pine Nut Tomato Sauce
To celebrate the cooler weather, I make tomato sauce. This one is slightly different than the others in that it gets its creaminess from pureed pine nuts and water, which blend beautifully for a milk-like base.
Ingredients
1

Tablespoon

extra-virgin olive oil

1

large

red onion

peeled and diced

1/4

cup

pine nuts

3

cups

water

1/2

teaspoon

sea salt

1

teaspoon

ground cumin

1/2

teaspoon

smoked paprika

3

large

tomatoes

quartered

Handful

chopped fresh flat-leaf parsley
METHOD
Heat the olive oil in a large skillet over medium heat. Sauté the onion with a pinch of sea salt for 20 minutes or until slightly caramelized and very tender, stirring often.

Meanwhile, puree the pine nuts and water in a high-speed blender until the consistency resembles milk. Set aside.

Lower the heat for the onions to medium-low. Stir in the 1/2 teaspoon sea salt, cumin and smoked paprika. Drop in the tomatoes and parsley then pour in the pine nut milk. Bring to a boil then cover and simmer for 30 minutes. Remove from the heat and set aside, if needed before transferring to a blender.

Transfer the sauce to the same high-speed blender used previously and puree until smooth. Let sit at room temperature for 5-7 minutes to thicken before serving.

Store leftovers in a sealed container in the refrigerator for up to 4 days.
Print Recipe
AmieValpone.com participates in various affiliate marketing programs, which means we may get paid commissions on editorially chosen products purchased through our links to retailer sites.