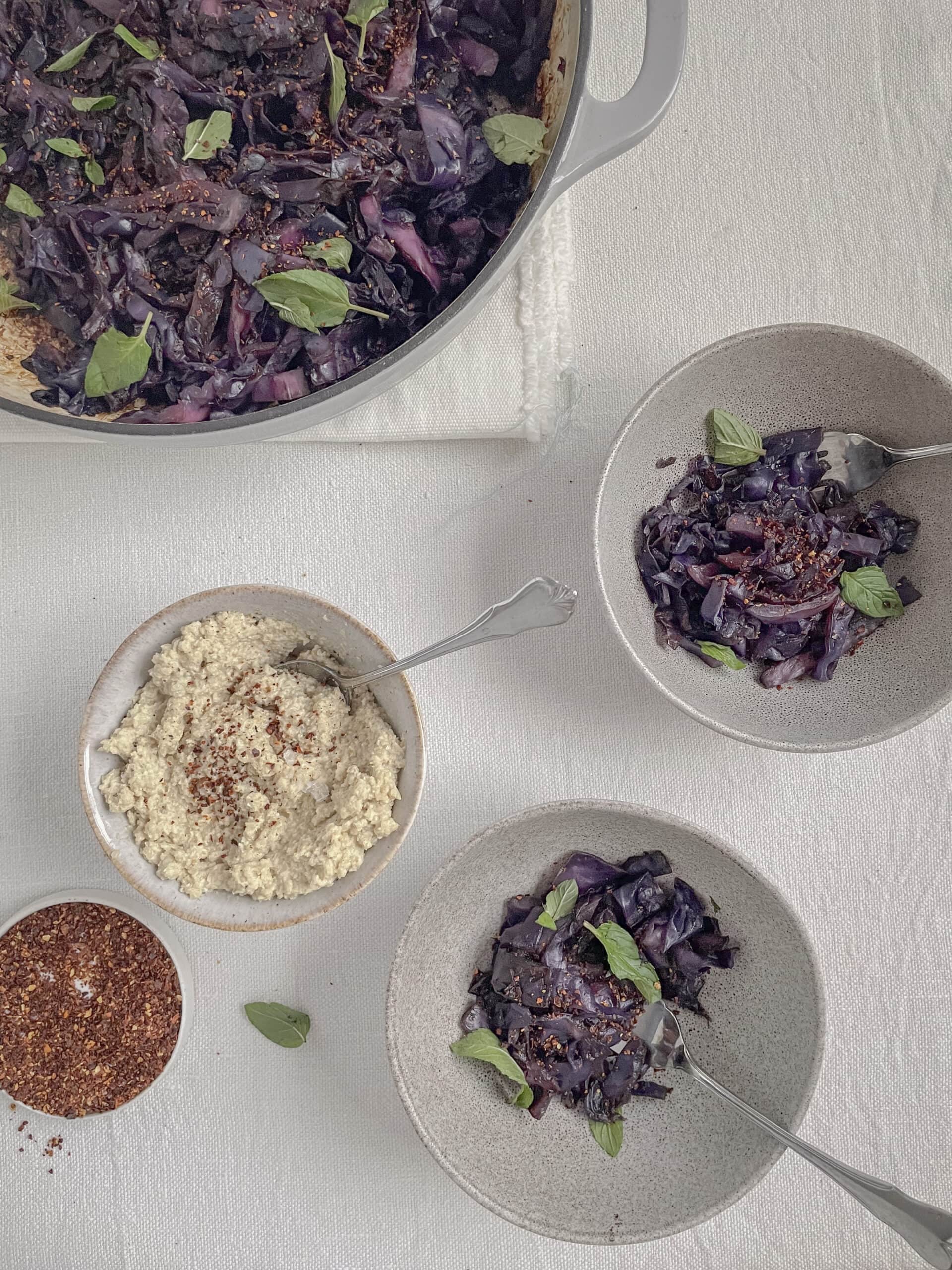 Sautéed Red Cabbage with Tahini Sauce
Cabbage isn't one of those veggies people are super excited about. I get it.
It's a bit boring and can definitely leave you bloated if it's not cooked just right.
That's exactly why I'm sharing this recipe. It's quite inexpensive to toss together for a weeknight side dish (and leftovers are even more tenderly delicious the following day). It also doesn't require much fuss.
Simply toss the cabbage in the skillet and let it do it's thing until it's velvety soft. Meanwhile, you'll be making a basic tahini sauce that gives the cabbage some oomph and creamy goodness I can't get enough of.
While sautéing the cabbage is self-explanatory, let's talk about the tahini here.
Some people like a very thin consistency for their tahini while others prefer it a bit thicker. Then, there's people like myself who love it a bit textured from the sesame seeds.
When I'm making a veggie that's soft and tender, I don't want a silky sauce. What I want is a sauce with some bite to it. And that's exactly what you'll find here.
If you're one of those folks who loves a creamy sauce, then be my guest and puree away until your tahini reaches the consistency that makes you happy. That's what cooking is all about anyway. Have some fun with this one!
Enjoy.
Click the Play button below to hear me share a few helpful tips and walk you through the simple steps of making this recipe. Maybe, like me, you've had times when you've struggle to read through a recipe and follow the steps. All kinds of life circumstances–grief, trauma, stress—can tax our cognitive processing abilities, which is why I've created these audio clips to further support you now that I'm in this more healed place.
Sautéed Cabbage with Tahini Sauce
The deep sweetness of sautéed red cabbage, which I often refer to as purple cabbage because it is in fact purple, makes the perfect side or main dish when seasoned just right and paired with a homemade savory tahini sauce.
Ingredients
Sautéed Cabbage
1

Tablespoon

extra-virgin olive oil

1

large head

red cabbage

thinly sliced

1/2

teaspoon

sea salt

plus more to taste
Tahini Sauce
1

cup

sesame seeds

2

teaspoons

ground cumin

2

large

garlic cloves

peeled and thinly sliced

1/2

cup plus 1 Tablespoon

water

3/4

teaspoon

sea salt

plus more to taste

fresh

mint

for garnish

Aleppo pepper or freshly ground black pepper

for serving
METHOD
Heat a large skillet over medium heat until the skillet is hot. Lower the heat to medium-low and drizzle in the olive oil followed by the cabbage and sea salt. Cover and cook for 25 minutes, stirring often, or until very tender.

Meanwhile, puree the sesame seeds in a mini food processor until finely ground. Add the remaining ingredients and puree until it reaches your desired consistency. Season to taste. Transfer to a small bowl.

Transfer the cabbage to a large shallow bowl. Portion into serving bowls and top with a dollop of the tahini sauce. Garnish with fresh mint. Serve warm with your choice of pepper.

Store leftovers in a sealed container in the refrigerator for up to 4 days.
Print Recipe
AmieValpone.com participates in various affiliate marketing programs, which means we may get paid commissions on editorially chosen products purchased through our links to retailer sites.