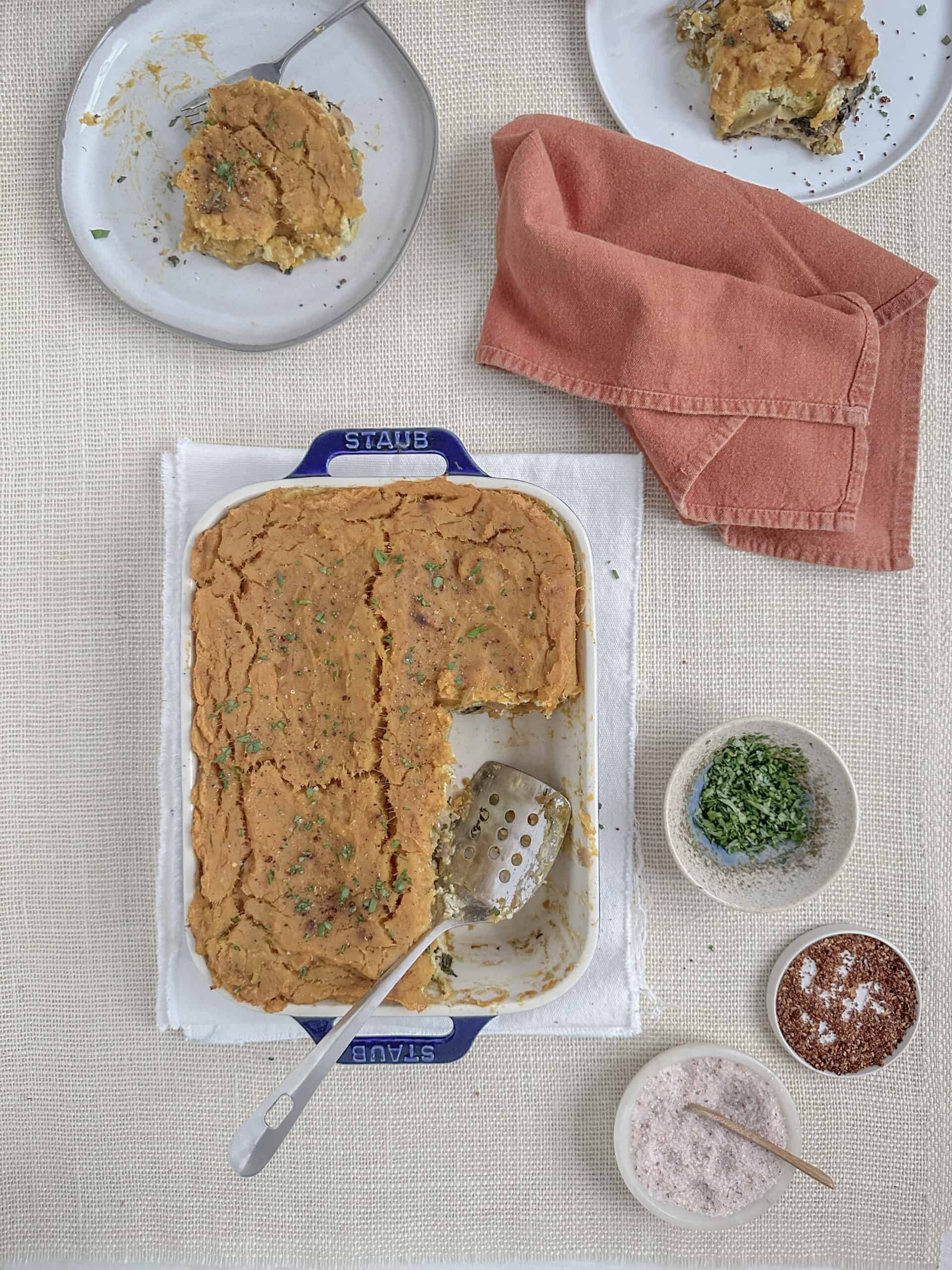 Butternut Squash Lasagna with Basil Almond Ricotta
Making lasagna without the traditional backbone of Italian tomato sauce and gluten-laden noodles yields quite a different result.
Here, I'm mashing roasted butternut squash until it's smooth then layering it in between a thick layer of sautéed spinach and caramelized onions, basil-spiked almond ricotta (yes, it's dairy-free) and sheets of gluten-free noodles.
Comfort foods make me happy, especially as the weather starts to cool off in Manhattan.
I let go of my love affair with celery and cucumbers until late Spring and start to fill the large ceramic bowl on my kitchen counter with all sorts of squash, especially butternut (I love my Roasted Carrot + Butternut Tart), honeynut (my Honeynut Tart is really lovely), delicata (I love this simple roasted delicata recipe) and acorn (this is an easy acorn squash recipe I like to serve with sun-dried tomato pesto).
This butternut squash lasagna is quite simple and can be broken down into a few easy steps.
Roast the butternut squash.
Caramelize the onions. Add a few handfuls of baby spinach.
Make the basil almond ricotta, which literally tastes like real ricotta.
Layer the mashed butternut squash, caramelized onions, basil almond ricotta and gluten-free lasagna noodles in a baking dish and transfer to the oven. That's it.
A Note About Pureeing
If you'd rather puree the butternut squash, you're welcome to use a large food processor but it's not really needed. The squash is tender enough to simply mash it in a large bowl with a spoon.
In terms of pureeing the dairy-free ricotta, I highly suggest using a high-speed blender (see The Kitchen page for the blender I suggest) because you don't want any bits of almonds in here. While I'm a huge fan of a high-speed blender for many recipes, in my experience, you've gotta use a decent amount of liquid if you want the blender motor to actually work, which is why I do not suggest using a blender if you're attempting to puree the butternut squash. If there isn't any liquid in whatever you're attempting to puree, the blender's motor will grind to a halt.
Hence, why I'm using a high-speed blender for pureeing the basil almond ricotta, which includes water, and not for pureeing the butternut squash, which does not include any liquid.
A Note About Purchasing Butternut Squash
Please make sure to purchase a butternut squash that is at least 4.5 pounds. If you're unable to find a squash this size, you can purchase two medium butternut squash that equal 4.5 pounds. Trust me, the first time I tested this recipe, my squash was only 3 pounds and it was not enough squash, which made the noodles hard, the squash dried out and the lasagna sunk in. It looked awful.
So, buy a big squash! I'm repeating this below in the recipe notes because I don't want you to make the same mistake. You need a whole lotta squash here in order for this to be a tender, cozy lasagna.
Before I hop onto the recipe, I want to share a bit about fresh parsley.
I've added fresh flat-leaf parsley as a garnish here. It really works wonders so don't skip it. The bright flavors of the parsley really dance nicely with the warm butternut squash. I'm not talking about curly parsley here. I'm talking about the flat-leaf Italian parsley. There is a huge difference.
The flat-leaf is my go-to. I highly suggest using it. I do not buy the curly variety – the taste is not as spectacular and it reminds me of garnish from restaurants back in the 80's. Take my advice and reach for the flat-leaf parsley instead.
And lastly, this cozy lasagna fits nicely with my Sweet Potato Casserole for the holidays if you're in the mood for more comfort.
Butternut Squash Lasagna with Basil Almond Ricotta
Pureed butternut squash that's been roasted to perfection finds it's way between thick layers of almond ricotta, sweet caramelized onions and tender sheets of gluten-free lasagna noodles. There's a moment of sheer bliss when your fork sinks into this rich and cozy comfort food.
Ingredients
Butternut Squash Lasagna
1

large

butternut squash

(4.5 pounds), halved and seeded

2

Tablespoons

extra-virgin olive oil

divided, plus more for greasing baking dish

2 1/2

teaspoons

sea salt

divided

2

large

red onions

(1.5 pounds), peeled and diced

8

cups

packed baby spinach

(10 ounces)

2 1/2

teaspoons

ground cumin

1/2

teaspoon

ground ginger

1/4

teaspoon

allspice

handful

finely chopped fresh flat-leaf parsley

for garnish
Basil Almond Ricotta
2 1/2

cups

slivered almonds

1 1/4

cup

water

1/2

cup

packed fresh basil

3

large

garlic cloves

2

Tablespoons

freshly squeezed lemon juice

1

Tablespoon

extra-virgin olive oil

3/4

teaspoon

sea salt

1/4

teaspoon

freshly ground black pepper
METHOD
Preheat the oven to 425 degrees F. Lightly grease an 8 x 11-inch baking dish with olive oil. Set aside.

Prepare a large rimmed baking sheet with parchment paper. Place the squash halves on the baking sheet. Drizzle with 1 Tablespoon olive oil and use your hands to rub the oil onto all sides of the squash until glossy. Sprinkle the cut-sides with 1/4 teaspoon sea salt. Place cut-side down on the baking sheet. Transfer to the oven for 45 minutes or until very tender.

Meanwhile, heat the remaining 1 Tablespoon olive oil in a large skillet over medium heat. Sauté the onions with 1/2 teaspoon sea salt for 20-25 minutes or until caramelized and very tender, stirring often. Reduce the heat to medium-low, as needed. Add the spinach and another 1/4 teaspoon sea salt. Sauté for another 2-3 minutes or until wilted. Remove from the heat and set aside.

Combine the Basil Almond Ricotta ingredients in a high-speed blender. Puree until silky smooth. Scrape down the sides, as needed. Season to taste. Transfer to a small bowl. Set aside.

Remove the squash from the oven. Set aside to cool for 5 minutes. Lower the oven temperature to 350 degrees F. Discard the squash skin. Mash the squash flesh with the remaining 1 1/2 teaspoons sea salt, cumin, ginger and allspice until the squash is smooth. Season to taste.

Spread 1/2 cup of the pureed squash evenly into the prepared baking dish. Lay 2 of the the lasagna noodles width-wise in the base of the dish followed by a layer of the ricotta and sautéed onion mixture. Add another layer of 2 lasagna noodles followed by the remaining ricotta and sautéed onions. Finish with the remaining butternut squash puree (this should be a thick layer fully covering the noodles). Sprinkle with sea salt and pepper. Cover with parchment paper and transfer to the oven. Bake for 50 minutes or until the lasagna is warm throughout. Remove from the oven and set aside for 5 minutes before serving. Serve warm garnished with fresh parsley.

Store leftovers in a sealed container in the refrigerator for up to 4 days.
Notes
Make sure your butternut squash is at least 4.5 pounds. Otherwise, you won't have enough squash to fill the lasagna. If needed, purchase two medium squash. 
Print Recipe
AmieValpone.com participates in various affiliate marketing programs, which means we may get paid commissions on editorially chosen products purchased through our links to retailer sites.