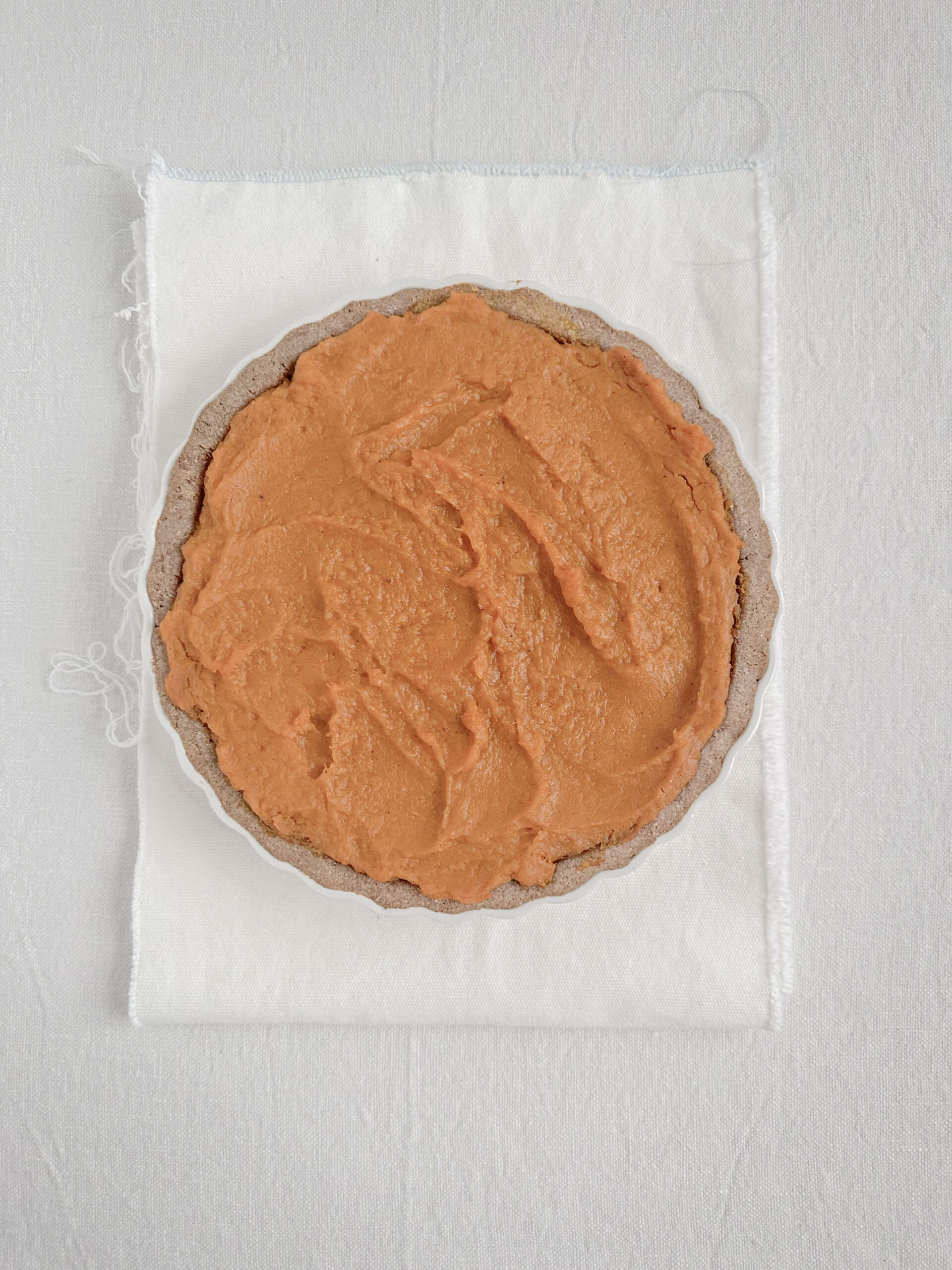 Roasted Honeynut Squash Tart
Honeynut squash looks like a miniature version of butternut. Both have a beautiful bell shape and tan rind but honeynut are about the size of your hand. They're adorable and quite hard to resist when you see them starting at you in the food store.
Today, I'm roasting these cute little squash to make a tender tart filling that's held together by a heavenly almond flour crust.
The tart itself is quite basic – just like all of my recipes.
There's no added sugar and no fuss here. We're roasting squash and baking an ultra chewy cinnamon spiked crust. That's it.
That's the whole shebang.
While I'm filing this recipe under sweets, don't be fooled. There's no added sugar, which means, yes, you could totally eat this for dinner.
I've listed the ceramic tart pan I love using on The Kitchen page if you want to use the tart pan shown here.
It's taken me awhile to tinker in my kitchen and ace this crust recipe, which I'm now using for all of my tarts, including the Roasted Carrot and Butternut Squash Tart.
It's the two tablespoons of ground cinnamon that really make this crust shine, not to mention just the right amount of sea salt, olive oil and eggs. It's a tender crust. One you'll want to gently break apart with your hands and chew all night long. That is, if you're like me and you enjoy eating with your hands.
Just don't eat the squash filling with your hands. It will be quite messy. Use a spoon.
This recipe is on the dinner menu for Thanksgiving at the Valpone house this year. I hope it finds it's way into your home, as well.
Enjoy.
Roasted Honeynut Squash Tart
A naturally sweetened tart without added sugar that's loaded with cozy autumn flavor. This tart makes a beautiful addition to any holiday table, whether served with the main course or dessert. It works either way.
Ingredients
Honeynut Squash Filling
4

medium

honeynut squash

(4 pounds), halved and seeded

1

Tablespoon

extra-virgin olive oil

plus more for greasing tart pan

1/2

teaspoon

sea salt

divided

1/4

teaspoon

ground ginger

1/4

teaspoon

allspice
Almond Flour Crust
3

large

eggs

2 1/2

cups

almond flour

2

Tablespoons

extra-virgin olive oil

2

Tablespoons

ground cinnamon

3/4

teaspoon

sea salt
METHOD
Preheat the oven to 425 degrees F. Grease 10-inch tart pan lightly with olive oil. Set aside.

Prepare a large rimmed baking sheet with parchment paper. Place the squash on the baking sheet. Drizzle with olive oil and use your hands to coat all sides of the squash until glossy. Sprinkle the cut-side with 1/4 teaspoon sea salt and place cut-side down on the baking sheet. Transfer to the oven. Roast for 35 minutes or until very tender. Note: make sure your squash is very tender or else you won't be able to mash it for the tart filling.

Meanwhile, combine all the crust ingredients in a medium bowl. Use your hands to press the dough into the prepared tart pan, ensuring the base and sides are even. Use a fork to poke holes in the base and the sides.

Remove the squash from the oven. Set aside. Lower the oven temperature to 350 degrees F. Bake the crust in the tart pan for 10 minutes. Remove from the oven and set aside.

Scrape the flesh out of the squash halves and transfer to a large bowl with the ground ginger, allspice and the remaining 1/4 teaspoon sea salt. Mix well to combine. Pour into the baked pie crust. Use the back of a large spoon to spread the squash in an even layer. Transfer back into the oven and bake for another 25 minutes or until the crust is firm and the filling is warm throughout. Remove from the oven and set aside for 5-10 minutes before slicing. Serve warm.

Store leftovers in a sealed container in the refrigerator for up to 4 days.
Print Recipe
AmieValpone.com participates in various affiliate marketing programs, which means we may get paid commissions on editorially chosen products purchased through our links to retailer sites.