Roasted Carrot + Butternut Squash Tart
Roasting butternut squash has become one of my favorite ways to end those days that seem to get shorter and shorter, cooler and cooler – as autumn comes around to greet me in my kitchen.
When left alone, I'm happy standing above my oven, still overflowing with warmth tickling my toes from down below, with a spoon in my right hand – eating the warm, sweet and nutty flesh of squash. But, that didn't happen tonight because tonight, I was craving the comfort of a tart so I thought, why not roast the few carrots left in my fridge along with the butternut squash staring at me on my countertop and puree them together inside a sweet almond flour crust for a cozy breakfast tomorrow?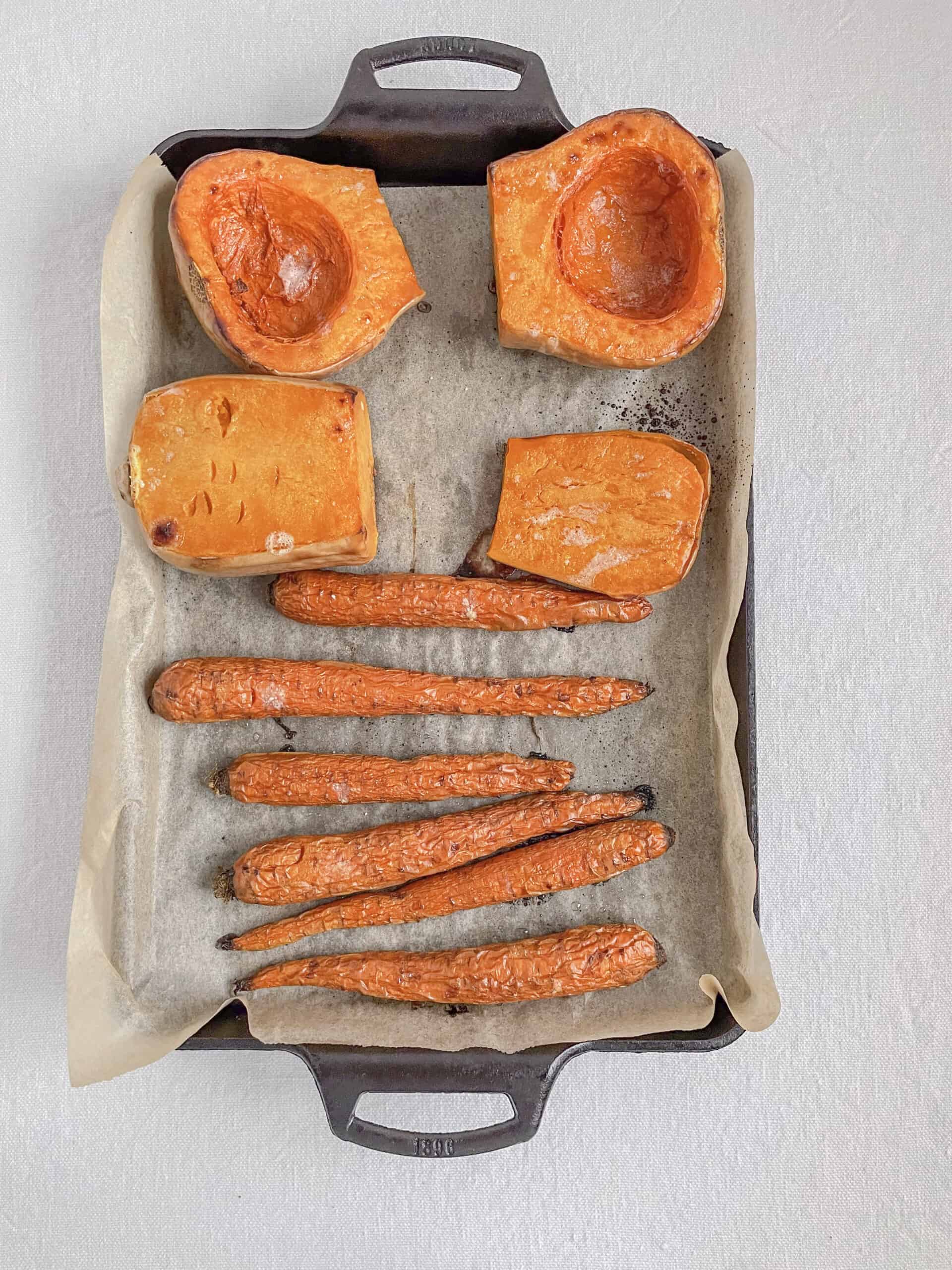 I've been known to make a handful of tarts in the last few years – this Honeynut Tart with Hazelnut Crust, which was a huge hit at Thanksgiving last year, has been made more times than I can count when I'm in the mood for something soothing and comforting. But, tonight I wanted to try something different. Instead of hazelnut flour, I used almond flour. Instead of the cute, little honeynut squash I see at the market each week, I chose their larger momma, butternut, and to add a pop of deep apricot color, a few carrots made their way into this recipe, as well.
This tart, like all of my recipes, is simple. There is nothing in the filling except the flesh of roasted butternut squash and carrots along with olive oil and sea salt. That is it and that is all you need. Nothing else.
I like to let the vegetables do the work for me. When I season the vegetables just right with sea salt and add a nice drizzle of olive oil for a slow roast, you don't need to add all the bells and whistles that come along with traditional tarts that seem to inflame my digestion with one bite.
Even though this is a tart and tarts are often dainty – this is not. It's hearty. And that's why I like it. I serve slices for breakfast throughout the week or as a side dish with dinner. If I had my choice, I'd go for breakfast.
There's something about waking up to a naturally sweet slice of beauty that makes me really happy. This tart is surprisingly filling and tends to hold me over well into the afternoon so it's ideal for those days when you're on the go or simply need a heartier start to the onset of your day.
It's really wonderful. Enjoy and don't forget the fresh thyme or oregano on top!
All supplies used in this recipe can be found In My Kitchen.
Click the Play button below to hear me share a few helpful tips and walk you through the simple steps of making this recipe. Maybe, like me, you've had times when you've struggle to read through a recipe and follow the steps. All kinds of life circumstances–grief, trauma, stress—can tax our cognitive processing abilities, which is why I've created these audio clips to further support you now that I'm in this more healed place.
Roasted Carrot + Butternut Squash Tart
The warm glow of roasted butternut squash and carrots makes me incredibly happy, which is why I decided to create this simple tart for autumn. A hint of fresh thyme or oregano on top might sound odd but it truly adds a nice pop of flavor and rounds out each slice.
Ingredients
Filling
1

large

butternut squash

halved and seeded

6

large

carrots

2

Tbsp.

extra-virgin olive oil

plus more if needed

1/2

tsp.

sea salt
Crust
1

Tbsp.

extra-virgin olive oil

plus more for coating tart pan

2 1/2

cups

almond flour

3

large

eggs

beaten

1

Tbsp.

cinnamon

2

tsp.

orange zest

1/4

tsp.

sea salt
Topping
fresh herbs such as thyme or oregano
METHOD
Preheat the oven to 425 degrees F. Prepare a large rimmed baking sheet with parchment paper. Lightly oil a 10-inch tart pan using your hands; set aside.

Place the butternut squash halves onto the prepared baking sheet. Add the carrots alongside ensuring the vegetables are spread out and not touching. Drizzle with oil and use your hands to coat the vegetables until glossy. Lay the butternut squash face down. Sprinkle with sea salt and roast for 45 minutes or until very tender.

Combine the crust ingredients in a large bowl and mix well until it forms a dough-like consistency. I suggest using your hands here.

Press the dough into the tart pan to ensure it's evenly distributed along the base and up the sides. Set aside.

Remove the vegetables from the oven, set aside to cool for 5 minutes. Lower the oven heat to 350 degrees F.

Use a large spoon to scoop the butternut squash flesh into a food processor. Save the skins for a latter use. Remove and discard the stems of the carrots with a sharp knife, then slice the carrots into 1-inch pieces and add to the food processor with the squash. Puree until silky smooth, then transfer the mixture into the prepared tart pan and sprinkle sea salt generously on top.

Arrange the tart pan in the center of a rimmed baking sheet to catch any possible drippings and place it back into the oven for 35-40 minutes or until the crust is set and the filling is warm throughout.

Remove the tart from the oven; set aside to cool for 10-15 minutes before slicing. Serve warm with a sprinkle of fresh herbs such as thyme or oregano.

Store leftover slices stacked on top of each other in a sealed glass container in the refrigerator for up to 5 days or in the freezer for up to 2 months.
Print Recipe
AmieValpone.com participates in various affiliate marketing programs, which means we may get paid commissions on editorially chosen products purchased through our links to retailer sites.