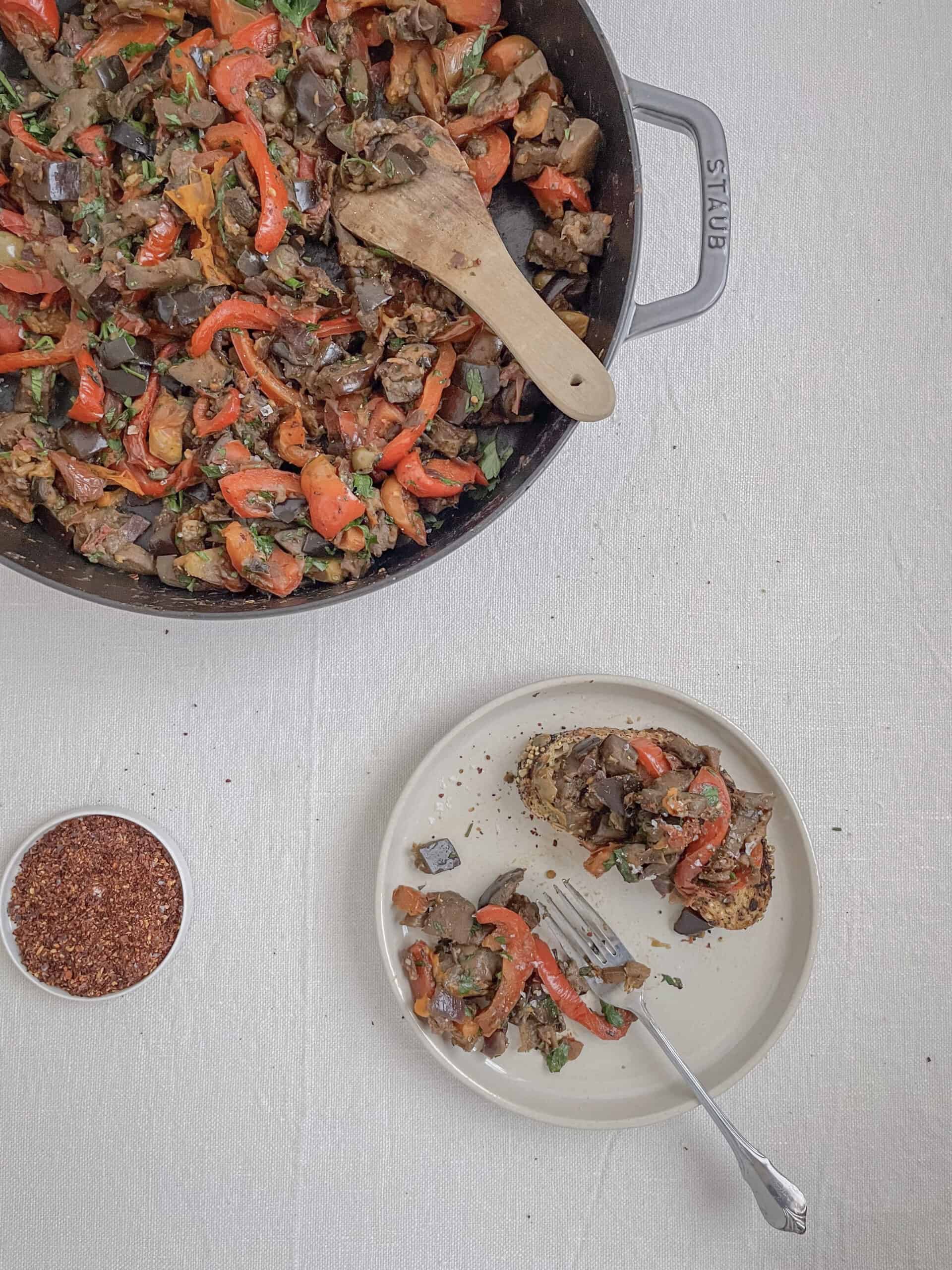 Eggplant Caponata on Gluten-Free Toast
I've eaten eggplant caponata less than a handful of times. Mostly as an appetizer on Christmas Eve at my aunt and uncle's home. The bowl of caponata is buried amongst dozens of other appetizers on a small circular table that everyone ravenously hovers around for the first hour of the night. Each year, I love every bite of caponata so it got me thinking, "Why we don't serve dishes like this on the regular in my family?"
As I often do, I set out to make my own version. It's a bit different than the traditional recipe without the sugar and everything else that really doesn't make me feel my best.
The recipe here is simple but, of course, loaded with flavor because I set out to create recipes with one thing in mind: FLAVOR.
The FLAVOR here comes from a few places.
The tender sweet bell peppers.
The bright fresh parsley.
The brine of olives and capers.
The eggplant sort of rounds out the whole dish and beefs it up a bit. While it's surely a meaty veggie, it also absorbs flavors very well so I think you'll be pleasantly surprised with this one, especially when served on crusty gluten-free bread that's been toasted to perfection.
Click the Play button below to hear me share a few helpful tips and walk you through the simple steps of making this recipe. Maybe, like me, you've had times when you've struggle to read through a recipe and follow the steps. All kinds of life circumstances–grief, trauma, stress—can tax our cognitive processing abilities, which is why I've created these audio clips to further support you now that I'm in this more healed place.
Eggplant Caponata on Gluten-Free Toast
A carefully seasoned skillet of sautéed red bell peppers and eggplant pulled together with the brine of olives and capers for a simple, cozy dish for a weeknight meal.
Ingredients
1

Tablespoon

extra-virgin olive oil

plus more if needed

1

large

red onion

peeled and diced

2

large

garlic cloves

peeled and minced

1

teaspoon

sea salt

plus more to taste

1

teaspoon

ground cumin

3

large

red bell peppers

seeded and thinly sliced

1

large

eggplant

ends trimmed, peeled and cut into 1/2-inch cubes

1

cup

fresh flat-leaf parsley

roughly chopped

4

large

green olives

pitted

1

Tablespoon

capers

8

slices

gluten-free bread

toasted
METHOD
Heat the olive oil in a large skillet over medium heat. Sauté the onion with a pinch of sea salt for 10 minutes or until very tender, stirring often. Lower the heat to medium-low. Add the garlic and stir, continuously, for another minute or until golden brown and fragrant.

Stir in the sea salt and cumin followed by the bell peppers and eggplant. Cook, stirring often, for 30 minutes or until the vegetables are very tender. Remove from the heat. Season to taste.

Sprinkle in the parsley. Spoon in the olives and capers. Gently mix to combine. Serve on gluten-free toast.

Store leftovers in a sealed container in the refrigerator for up to 5 days.
Print Recipe
AmieValpone.com participates in various affiliate marketing programs, which means we may get paid commissions on editorially chosen products purchased through our links to retailer sites.