Heirloom Tomato Soup
When I was growing up in the 80's, my mother served my sister and I a can of Campbell's Tomato Soup with grilled cheese on chilly winter weekends and while I really didn't love that watery bland soup, what I did love was how my Italian father spent all day every Sunday making homemade tomato sauce. I can still smell the garlic and fresh basil floating up the stairs into my bedroom as he let it simmer for eight hours on our tiny brown stovetop.
I'm sure you've already pieced together how tomato soup does not excite me. I had no interest in making it or eating it ever again since those days eating it from a can. Yet, what I do love is making myself homemade tomato sauce a few times a month and what I noticed when I was making tomato sauce on this particular wintery day in October was that, heck, this was an exceptional tomato soup – not a sauce!
As you can see below in my little handy dandy recipe book, this was meant to be a tomato sauce – but I've decided it's a heck of a lot better as a soup.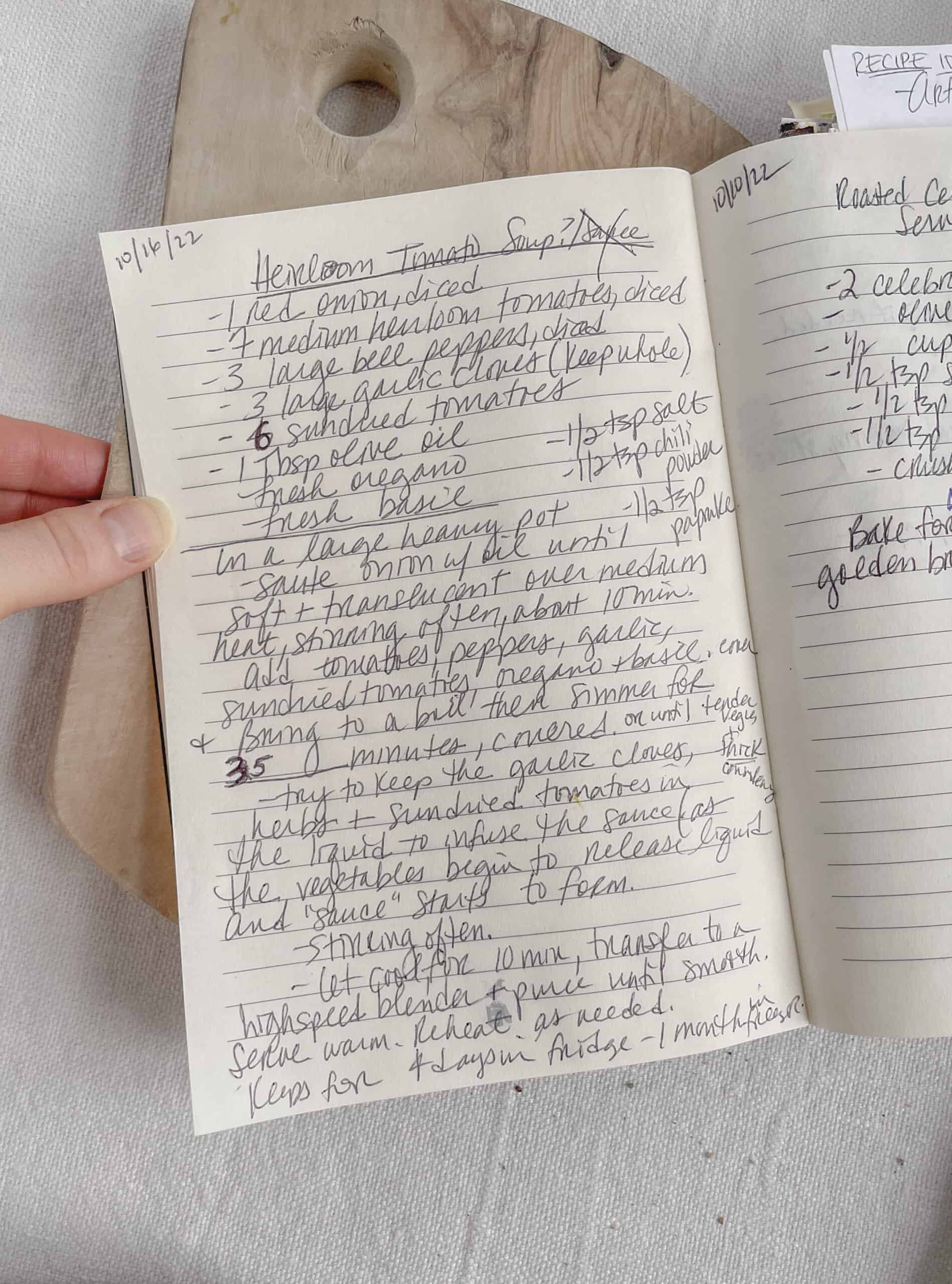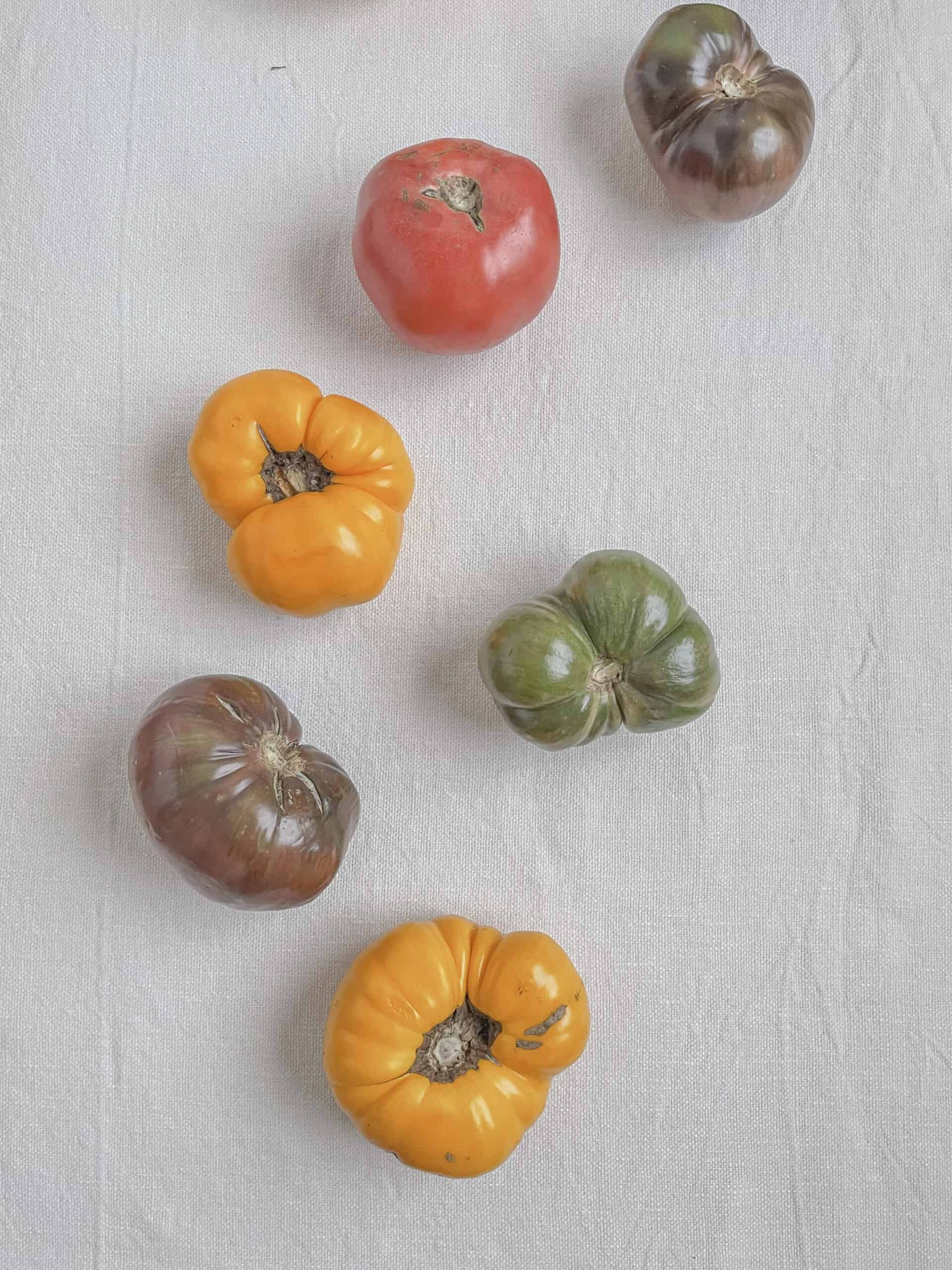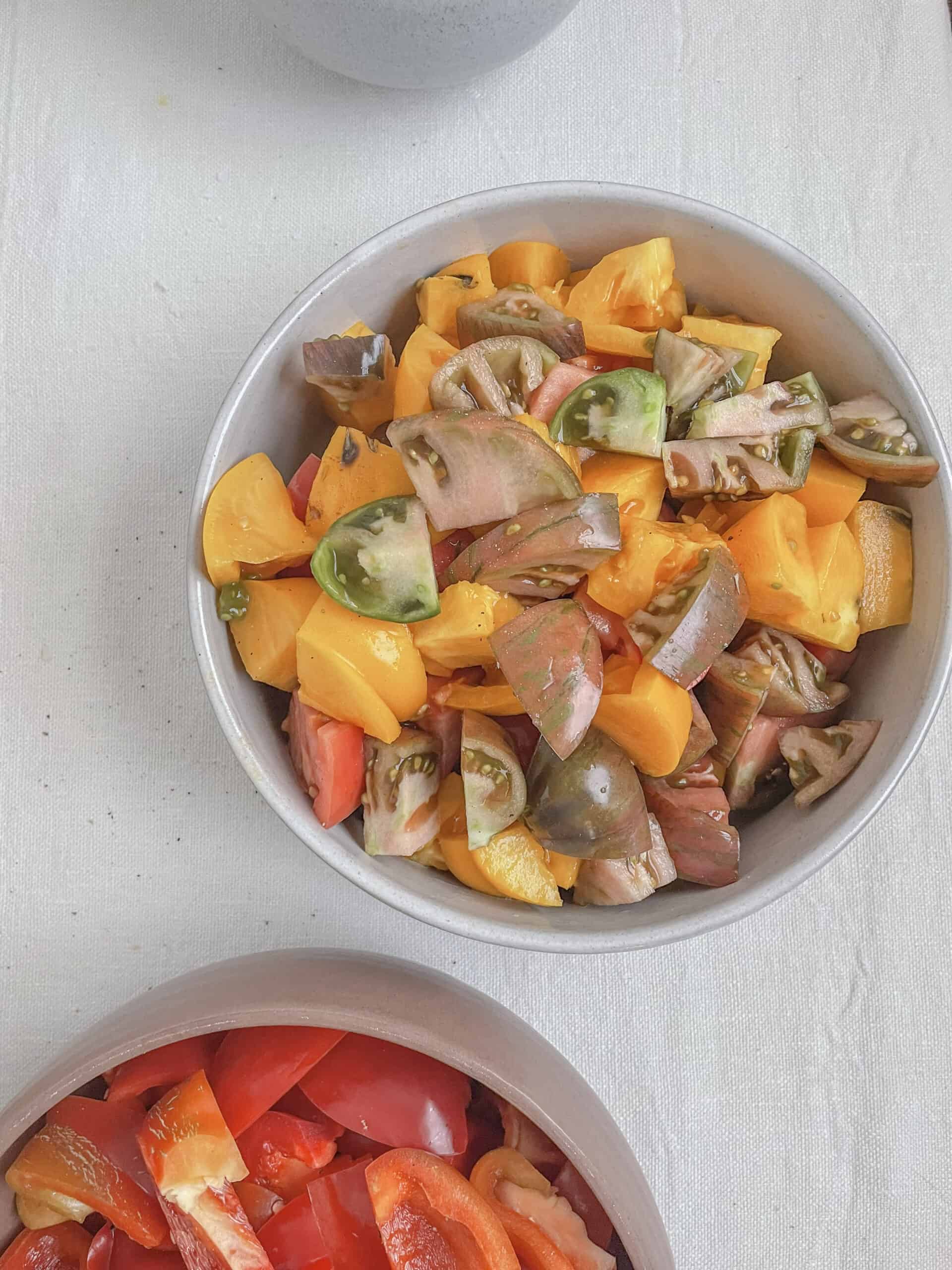 I used a variety of heirloom tomatoes for this recipe – you know – the ones that are gorgeously vibrant with shades of deep yellow and orange, thick stripes of soft grassy green that look as though they'd match a zebra's skin, some looking as though they were dipped for hours in red wine – these are the tomatoes I'm talking about. Years ago, I could only find heirloom tomatoes in my parent's garden in the warm Jersey soil of their backyard but now, they're sold year round in food stores. While I do love how they're available in the middle of January (and this seems odd in NYC), I'm just happy to be able to make this soup for myself well after tomato season ends.
That said, if you can't get your hands on any heirloom tomatoes, which are in season from late summer into fall at the farmers markets and food stores, you can easily use your favorite variety of tomato instead. If you choose the latter, yes, the flavor will be different but you can adjust the seasonings yourself and make the soup as you wish.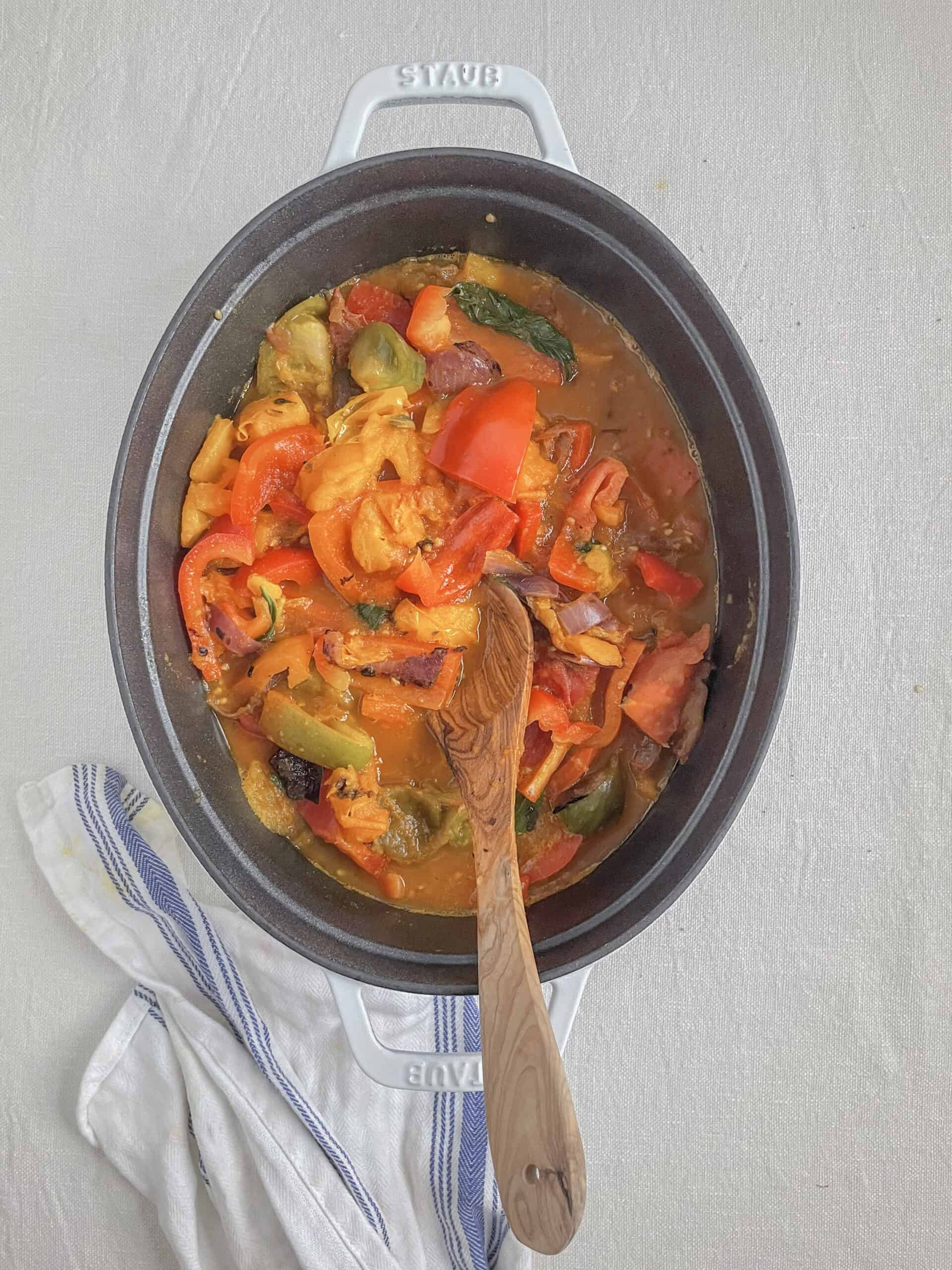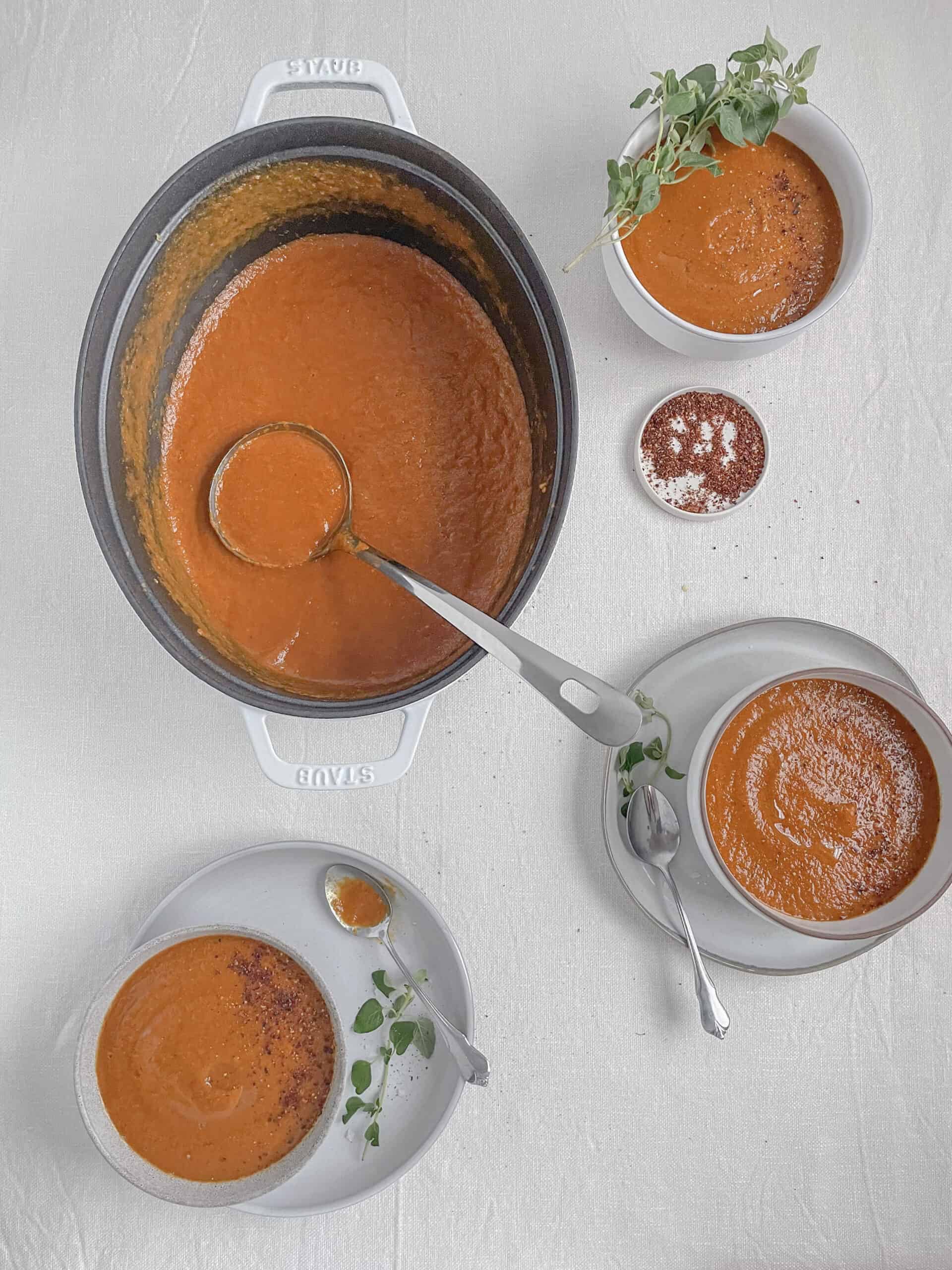 One thing to note as you're making this soup is that the tomatoes will release a lot of liquid as they cook so you don't need to add any liquid. Trust me, the liquid will appear magically as the tomatoes release their water. Just cover and watch!
The hidden treasure here is the sun-dried tomatoes – not the ones stored in jars of oil – I'm talking about the dried sun-dried tomatoes found in a pouch in the food store. Those are the ones to use! I've found over the years, they really deepen the flavor and add such a nice touch. If you've read my first book, Eating Clean, you're likely a fan of the Sun-Dried Tomato Sauce, which just so happens to be everyones favorite.
This soup is thick and silky – sure it can easily double as tomato sauce if you'd like – but I really love serving it as a soup. It's nowhere near the bland Campbell's soup alternative that I am still afraid of forty years later. Enjoy.
All supplies used in this recipe can be found In My Kitchen.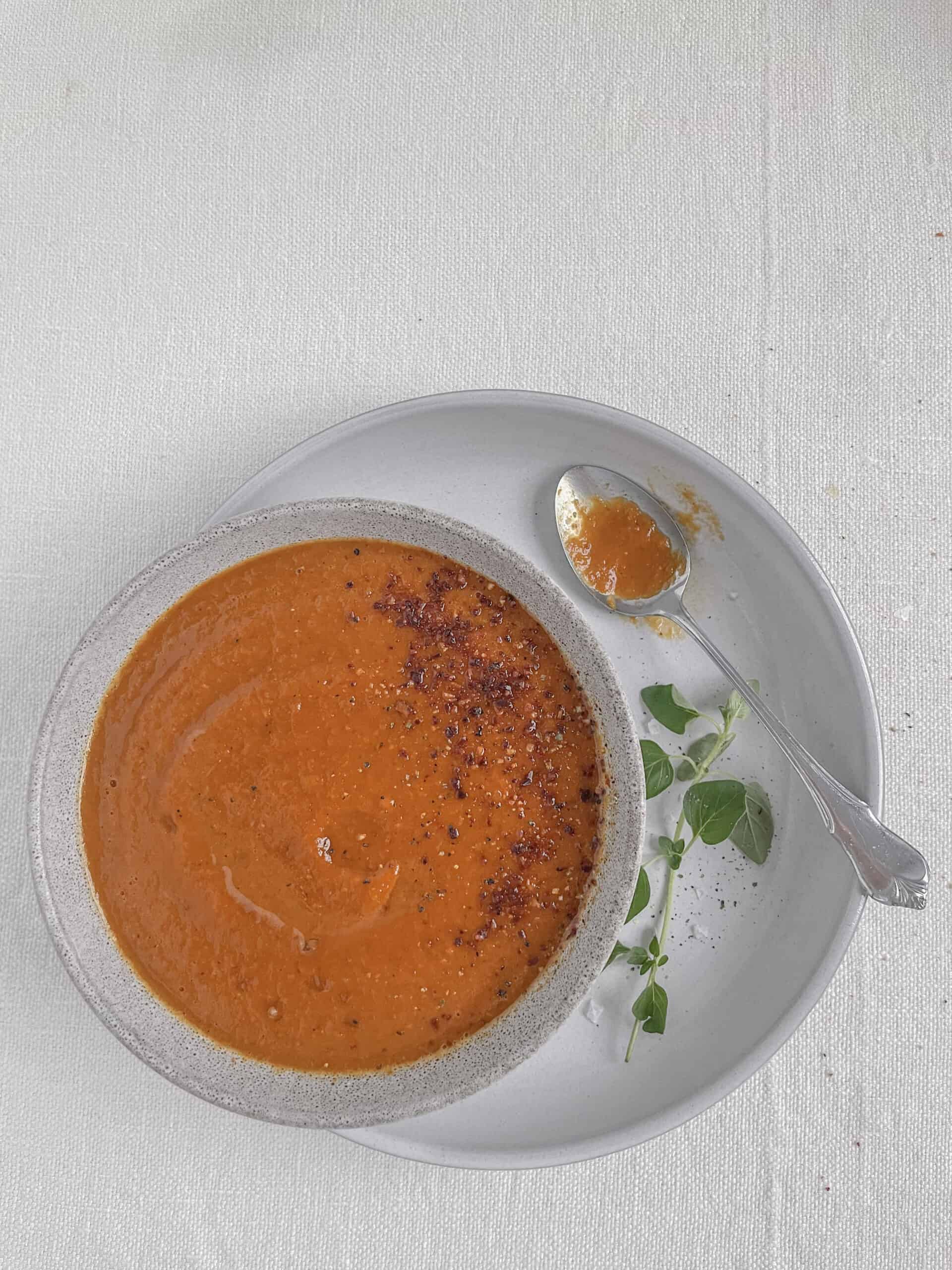 Click the Play button below to hear me share a few helpful tips and walk you through the simple steps of making this recipe. Maybe, like me, you've had times when you've struggle to read through a recipe and follow the steps. All kinds of life circumstances–grief, trauma, stress—can tax our cognitive processing abilities, which is why I've created these audio clips to further support you now that I'm in this more healed place.
Heirloom Tomato Soup
I make a tomato recipe at least twice a week, especially when they're in their peak Jersey season when I'm visiting my family's home in the summer. This soup is instantly comforting and might I say, stunningly colored with a beautiful dance of sweet and spicy ingredients. While I appreciated the traditional, bland tomato soup as a child, this one is thick and silky and feels like a dance party in my mouth compared to to what I was served back in the 80's.
Ingredients
1

Tbsp.

extra-virgin olive oil

1

large

red onion

peeled and diced

1

tsp.

sea salt

plus more to taste

1/2

tsp.

paprika

1/2

tsp.

chili powder

6

large

heirloom tomatoes

diced

6

large

sun-dried tomatoes

(dry, not in oil)

3

large

red bell peppers

diced

3

large

garlic cloves

fresh basil

fresh oregano
METHOD
In a large heavy pot over medium heat, saute the onion with olive oil and a pinch of sea salt until very soft and translucent, stirring often, about 10 minutes. Stir in the spices and sea salt; cook for another 2 minutes then toss in the heirloom tomatoes, sun-dried tomatoes, bell peppers, whole garlic cloves, fresh basil and oregano. Cover and bring to a boil, then reduce to a simmer for 35 minutes, covered, or until the vegetables are very tender and the soup is nice and thick. Note: Check on the soup every 5-7 minutes, stirring well, to ensure the whole garlic cloves, fresh herbs and sun-dried tomatoes are submerged in the liquid to infuse the soup.

Remove the soup from the heat, let cool for 10 minutes to thicken and transfer to a high speed blender. Puree until silky smooth and season to taste with sea salt and spices, as needed.

Transfer the soup to serving bowls and serve warm.

Store leftover soup in a sealed glass container in the refrigerator for up to 5 days or in the freezer for up to 2 months. Reheat the soup before serving.
Print Recipe
AmieValpone.com participates in various affiliate marketing programs, which means we may get paid commissions on editorially chosen products purchased through our links to retailer sites.